A fresh blackberry cake recipe with sour cream and a delicious crumbly topping. While blueberries and raspberries seem to be the most popular berries for baking, blackberries more than deliver on the flavour and colour front.
This gorgeous coffee-style crumble cake showcases plump and juicy blackberries in all their glory.
The berries nestle in a lovely light vanilla, sour cream cake with a crumble topping made with sliced almond and lime zest. I do enjoy a crumble topping on my cakes I have to admit. The more crumble the better in my book. The more berries the better in my book too.
This is an absolutely delicious blackberry cake that's super easy to make too – what's not to love?
This lovely Blackberry Cake is brought to you by the prodigious baking talents of Tide and Thyme.
Perhaps you're looking for other blackberry dessert recipes. Have you seen this stunning Chocolate Meringue Cake with Blackberries? Yum yum yum.

Blackberry Cake Recipe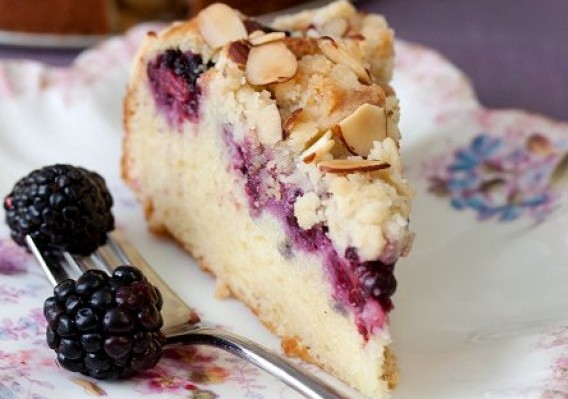 Ingredients
For the crumb topping:
½ cup all-purpose flour
⅓ cup sugar
½ tsp lime zest
4 tbsp. (2 oz.) unsalted butter, melted and cooled slightly
½ cup sliced almonds
For the cake:
1¾ cups all-purpose flour
1 cup sugar
2 tsp. baking powder
¼ tsp. baking soda
¼ tsp. salt
3 eggs
1 cup sour cream
1 tsp. vanilla extract
2 cups fresh blackberries

Happy Baking!