An easy Vanilla Bundt Cake recipe. With this recipe a basic single-layer vanilla cake is made a little bit fancier with the use of a very pretty bundt cake pan.
This is an unfailingly reliable vanilla cake recipe.
The cake has a delicate crumb and velvety texture that just melts in your mouth, but it's the vanilla flavour that's the true star. The vanilla flavour comes from vanilla extract but you could easily substitute vanilla bean if you prefer.
When substituting vanilla bean scrapings for vanilla extract, I usually use about half a vanilla bean for each teaspoon of extract the recipe calls for. Vanilla bean will generally give you a smoother, deeper vanilla flavor than extract (although it depends on the quality of the extract). And I do like those little black specks throughout the cake.
This is also one of my favorite shaped bundt pans – the Heritage Bundt Pan from Nordic Ware. Simple, strong, clean lines and the furrows trap the glaze perfectly too. You can get it here: Heritage Bundt Pan
You can also get a mini version of this bundt pan too – and you know how much I love my mini bundt cakes: Mini Heritage Bundt Pan
The cake genius behind this lovely Vanilla Bundt Cake recipe is Jane's Sweets.

Vanilla Bundt Cake Recipe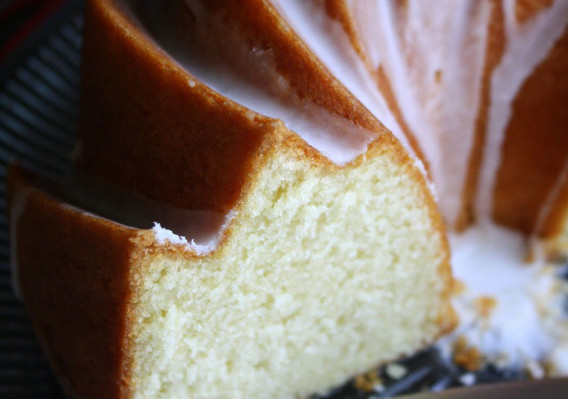 Ingredients
For the cake:
2 and ¾ cups all-purpose flour
1 and ½ tsp. baking powder
1 level tsp. coarse kosher salt
2 sticks (1 cup) unsalted butter, softened and at room temperature
1 and ½ cups granulated sugar
4 large eggs, beaten lightly
1 tsp. vanilla extract
1 and ½ tsp. white rum
¾ cup milk, room temperature
¼ cup half & half, room temperature