If you like your cakes super moist and super lemony, this Moist Lemon Cake recipe is for you.

There are two stand out features of this recipe. One is that it's really, really, easy to make in your food processor.

The other is that it packs a big lemon punch – without any hint of sourness.
The buttery cake is beautifully flavored with lemon zest – but no lemon juice.
The syrup is simply fresh lemon juice combined with icing (powdered) sugar. The sugar sweetens the juice and removes any trace of sourness your lemons may have. You can make your syrup as sweet or tangy as you like, simply add more or less sugar to suit your tastes.
And if you can manage not to eat the whole cake on the day it's baked, it gets even better the next day. I can't comment about day three though – this cake has never lasted past day two in my house (and rarely even that long).
For more great lemon cakes, take a look at our 10 of the Best Lemon Cake Recipes list. Yes, we do like our lemon cakes…

Moist Lemon Cake Recipe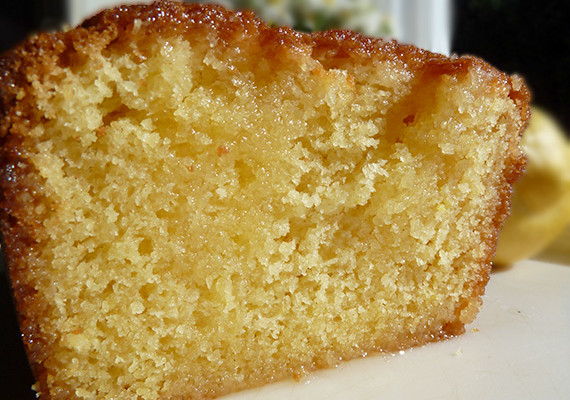 Ingredients
For the lemon cake:
125g butter
175g caster sugar
175g self raising flour, sifted
1 tsp baking powder
2 large eggs
Zest of 2 lemons
65ml milk
For the lemon syrup:
150g icing sugar
Juice of 2 lemons (about 50ml)
Instructions
Step 1 - Preheat Oven 180 degrees C. Grease and line a medium sized loaf pan.
Step 2 - Place all cake ingredients into your food processor and whiz until smooth.
Step 3 - Pour cake mixture into the loaf pan.
Step 4 - Bake for 45-50 minutes.
Step 5 - Use a skewer/toothpick/small knife to test if the cake is done.
Step 6 - Leave cake in the pan once you remove from the oven.
Step 7 - To make the syrup, heat the lemon juice and sugar in a saucepan over low heat. Be careful not to boil. Stir until syrup has thickened and is transparent (about 4-5 minutes). Taste syrup and adjust sugar to taste.
Step 8 - While the cake is still warm and in the pan, prick all over with a skewer/toothpick. Slowly spoon the syrup over the cake, waiting for each spoonful to be absorbed before adding the next. Don't feel you have to use all the syrup - you want your cake to be luscious, but not soggy. When the syrup stops absorbing easily it's time to stop.
Step 9 - Leave the cake to cool in the pan. Carefully remove the cold cake from the baking pan.