An utterly delightful Mini Banoffee Cake recipe.
Bite-size morsels of cake, thick caramel, cream, fresh banana and chocolate – you can understand why these little cakes are always a big hit.
You know those recipes that look and taste amazing and have people swooning, but are actually incredibly easy to make, well this Mini Banoffee Cake recipe fits that bill.
The homemade caramel filling is pretty much the same thick caramel you find in caramel slices. As noted in the recipe, you'll have a bit left over after making these mini cakes (unless you make a double batch). Left over caramel – hardly the end of the world is it?
The recipe makes for 20 mini-muffin-sized cakes. Twenty is never enough though – just watch how quickly they vanish.
The absolute genius Lemonpi shares this recipe for Mini Banoffee Cakes.
If you're looking for another banoffee cake treat, have a look at this deep-dish Banoffee Cheesecake. Your life may never be the same again.

Mini Banoffee Cake Recipe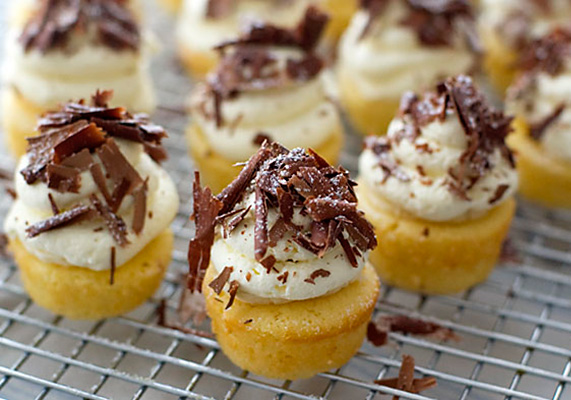 Ingredients
For the Caramel:
40g unsalted butter
50g golden syrup
325g sweetened condensed milk
For the Mini Cakes:
67g caster sugar
2 large eggs
56.5g unsalted butter, melted and cooled
58gr sour cream
62.5g plain flour
To assemble:
1 medium banana
200g whipped cream
dark chocolate shavings or curls, to garnish