There's a lot to love about this White Chocolate Cranberry Cake recipe.
Cranberries to start with of course.
And white chocolate, lots of white chocolate – in the cake itself and that gorgeous glaze.
Add cream, mascarpone, vanilla, orange zest and splash of Godiva white chocolate liqueur and you have the makings of a very special cake indeed.
This lovely White Chocolate Cranberry Cake is shared by the very talented and always delightful Bobbies Baking Blog with a great step-by-step tutorial style recipe to guide you through.
Interested in something similar? Check out this white chocolate plum cake.

White Chocolate Cranberry Cake Recipe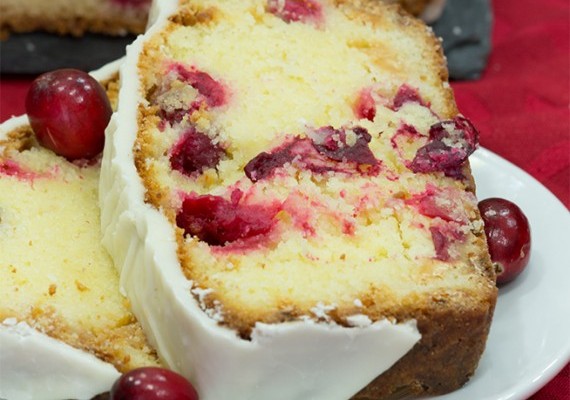 Ingredients
187 grams/ 1½ cups plus 3 Tablespoons cake flour, sifted
2 grams/½ teaspoons baking powder
Pinch of salt
96 grams/ ½-cup whole cranberries, fresh
141 gram/5 ounces white chocolate chunk
113 grams/ ½ cup unsalted butter, room temperature
300 grams/ 1½ cups sugar
113 grams grams/ ½ cup heavy cream
116grams/ ½–cup mascarpone cheese
3 large eggs/ about 165 grams
½ teaspoon vanilla extract
2 teaspoons orange zest zest
31 grams/ 2- tablespoons beurre noisette (browned butter)
For the glaze:
120 grams/ 1-cup powder sugar
85 grams/ 3 ounces white chocolate, melted
30 grams/ 2-Tablespoons whole milk
15 grams/ 1-Tablespoon Godiva white chocolate liqueur

Happy Baking!