This Pineapple Coconut Cake is a tropical delight.

Three layers of moist, rich pineapple and coconut cake, with a coconut pudding filling and coconut frosting.
Yes you read that right – coconut pudding filling. Two layers of coconut pudding in fact. How divine!
To be honest, it was actually the coconut pudding that caught my eye with this recipe. Cake with pudding – yes please.
It takes a bit of time to pull this Pineapple Coconut Cake together, but no individual step is particularly difficult. And it's well worth the effort.
The talented Kevin at Make Better Food has certainly outdone himself with this great Pineapple Coconut Cake recipe.
If pineapple cakes are your weakness take a look at our pineapple cake recipes. Or if it's coconut cake you're keen on, we have a coconut cake recipe collection just for you.

Pineapple Coconut Cake Recipe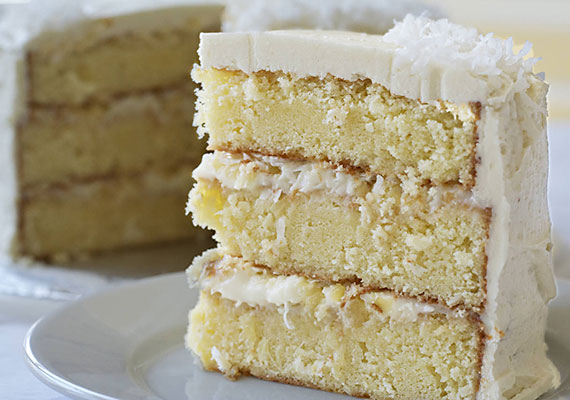 Ingredients
For the Pineapple Coconut Cake:
8 large eggs, room temperature
1 cup whole milk, room temperature
1 pound (4 sticks) butter
½ cup pineapple juice (from can of crushed pineapple)
½ cup shredded coconut
3 teaspoons vanilla extract
2 teaspoons coconut extract
21 ounces (3 cups) sugar
14 ounces (3 ½ cups) cake flour
4 teaspoons baking powder
2 teaspoons salt
For the Coconut Pudding (for Filling):
1 ½ cups heavy cream
½ cup milk
⅔ cup sugar
pinch of salt
½ cup heavy cream
3 tablespoons cornstarch
½ tablespoon coconut extract
For the Coconut Frosting:
5 tablespoons flour
1 cup milk
1 teaspoon coconut extract
1 cup butter (2 sticks)
1 cup granulated sugar (not powdered sugar!)
To Assemble:
1 cup crushed pineapple
½ cup shredded coconut, or more as desired