If you're looking for a dairy free chocolate cake that everyone will enjoy, take a look at this recipe.

This cake recipe uses canola oil for moistness and cocoa instead of chocolate. It's a surprisingly rich and dense cake – especially for a cocoa based cake.

That gorgeous, creamy looking chocolate frosting is made from dairy free soy margarine and soy milk.

Seriously, no one would ever know that it's all dairy free.
This is a great basic chocolate cake whether you need to be dairy free for dietary reasons or not.
An added bonus, you make the cake and the frosting in your food processor so it's all very quick and easy.
One small thing that I find with this recipe is that you need to make sure your cake is properly baked. The cake's texture is very fine and soft – which is lovely, but if it's under-baked, it can seem "sticky". While for cakes that use actual chocolate, slight under-baking can give a luscious, molten texture, it isn't the same for this recipe. Just make sure that your skewer/toothpick comes out completely clean when you're testing whether it's ready and you'll be fine.
The measurements in this recipe make enough batter for two cakes and enough frosting for both.

Dairy Free Chocolate Cake Recipe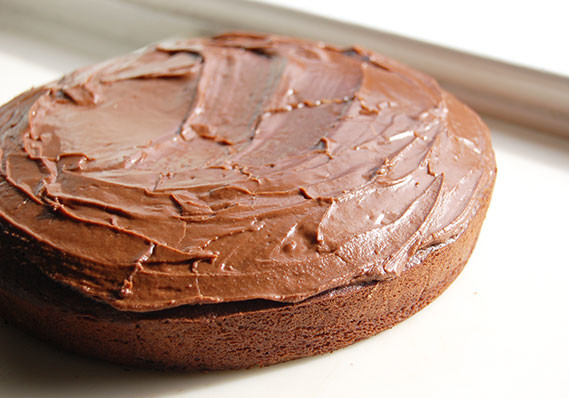 Ingredients
For the Dairy Free Chocolate Cake:
1½ cups castor sugar
¾ cup cocoa
1 teaspoon salt
¼ cup canola oil
1½ cups water
2 eggs, beaten
1½ teaspoons vanilla essence
2 cups self-raising flour, sifted
For the Dairy Free Chocolate Frosting:
2 cups icing/confectioners sugar
¾ cup cocoa powder
¼ cup dairy-free soy margarine, softened
¼ cup soy milk
½ teaspoon vanilla essence
Instructions
For the Chocolate Cake:
Step 1 – Preheat your over to 180 degrees C. Grease and line two round, nine-inch cake pans.
Step 3 – In your food processor bowl, add sugar, cocoa and salt. Whiz for 5 seconds (or pulse) to mix.
Step 4 – Add the oil, water, beaten eggs and vanilla essence to the dry mixture in the food processor. Mix for 20 seconds until well combined and smooth.
Step 5 – Add the sifted flour and mix for 5-10 seconds. You want the flour to be just combined with the batter. The less you need to process it the better so if after 5 seconds the flour has mixed in properly, don't whiz it any more. The batter will be quite runny.
Step 6 – Pour the mixture into your cake pans.
Step 7 – Bake for 25-30 minutes.
Step 8 – Perform a skewer test. The skewer/toothpick/knife should come out completely clean of batter.
Step 9 – Allow cakes to cool before frosting.
For the Dairy Free Chocolate Frosting:
In the bowl of your food processor, mix the icing sugar and soy margarine until thick and creamy. Add the soy milk, cocoa and vanilla essence. Continue mixing until smooth.