A very beautiful and easy cake where cherries, strawberries and red currants are baked into a lovely light vanilla cake.
The fruit is the absolute star of this cake.
Baking intensifies the color and flavor of fruit and there's something about red fruits baked into the paler colored cake that is very festive to me. This would be just lovely on a Christmas table so keep it in mind.
Don't go over board with the icing sugar dusting – you don't want to cover up those gorgeous red fruits.
The English version of the recipe is in the photograph or you can use an online translation tool (like Google Translate) if it's difficult to see the photograph.
This lovely Cherry Strawberry and Red Currant Cake recipe is shared by the ever delightful Call Me Cupcake.
For more cherry cake recipes, pop on over to The Answer is Cake's Cherry Cake Recipe Collection.

Cherry, Strawberry and Red Currant Cake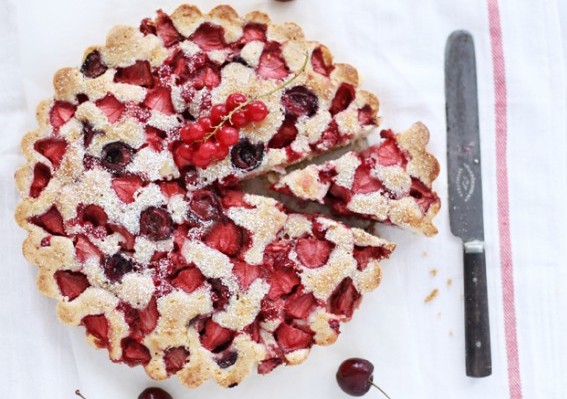 Ingredients
85 grams unsalted butter, plus extra to grease the dish
188 grams of flour
1½ teaspoons baking powder
½ teaspoon salt (optional if using salted butter)
Approximately 175 grams and 2 tablespoons (25 grams) sugar
1 large egg
1¼ cups milk
1 teaspoon vanilla extract
400 grams of strawberries, cherries and red currants.