This Lemon Polenta Cake is extremely easy and totally delicious. If you're keen to try a Lemon Polenta Cake recipe, this is the perfect place to start.

I'm a big fan of lemon cakes generally, but I'm particularly fond of lemon polenta cakes. I think it's because of the intense yellow color from the polenta (also known as cornmeal).
This cake is as yellow as lemon on a tree. And a bright yellow lemon cake is almost guaranteed to bring a smile to everyone's face. It's a slice of sunshine on a plate.
This Lemon Polenta Cake is very basic and super easy to make (just look at the ingredient list). The lemon flavor is perfectly balanced with the zest of two lemons in the cake itself and a lovely syrupy lemon glaze.
The texture from the polenta is quite rustic and lightly grainy. Polenta is also known as cornmeal, but not to be confused with cornflour which is the superfine, floury powder which is often used for thickening. You do see some lemon polenta cake recipes which include cornflour to smooth out that rustic texture, but personally I quite like a little texture to my cakes now and again.
This Lemon Polenta Cake recipe is gluten free too, so pretty much everyone can enjoy a slice (or two).
The very talented My Best Days Ever shares this excellent Lemon Polenta Cake.
If you're after a slightly more involved polenta cake recipe (with a splash of liqueur), have a look at this lovely Lemon, Polenta and Almond Cake.

Lemon Polenta Cake Recipe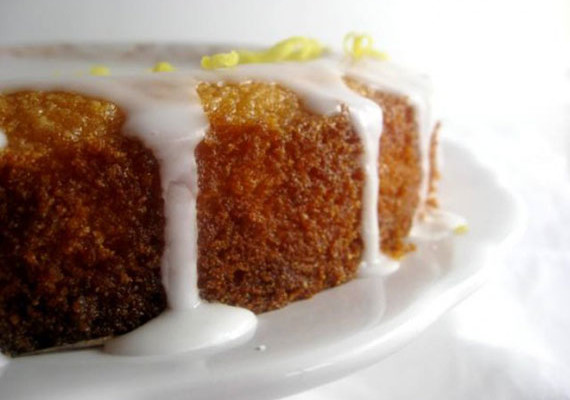 Ingredients
For the Lemon Polenta Cake:
200 grams soft unsalted butter, plus extra for greasing
1 cup caster sugar
2 cups almond meal
¾ cup fine polenta
1½ teaspoons baking powder
3 eggs
Zest 2 lemons (save the juice for the syrup)
For the lemon syrup:
Juice from 2 lemons
Heaped 1 cup icing sugar