This Lemon Lavender Cake is a beautiful and elegant treat with a glaze that's beyond delicious.
The combination of lemon and lavender is exquisite – and the smell of your home while you're baking this delight will make you swoon.
Interestingly, while we may think of southern France when thinking of lavender, it is not traditionally used in cooking in that region. Lavender is used in many other ways but not in food.
Remember when you are cooking with lavender, be sure you have culinary lavender, not the lavender from potpourri sachets. You're best buying specialty edible lavender from a high-end supermarket or gourmet grocer.
You could use lavender flowers from your garden, but some varieties can be on the bitter side. I'd stick with the store bought culinary lavender like this one: Culinary French Lavender
Another cake recipe using lavender you may enjoy is this simple Lavender Tea Cake.
The baking genius behind this lovely Lemon Lavender Cake is the very talented Whisk Flip Stir.

Lemon Lavender Cake Recipe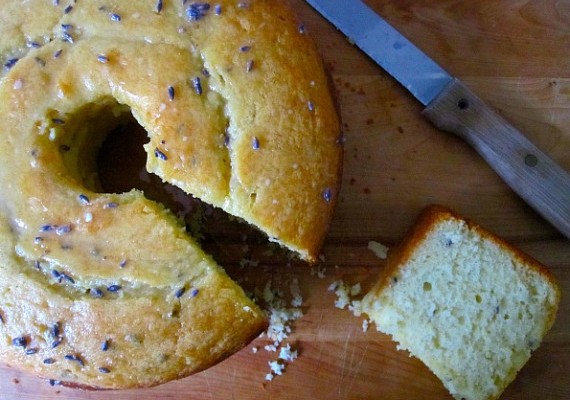 Ingredients
For the Lemon Lavender Cake:
1 tbsp dried lavender
4 cups all-purpose flour
1 tablespoon baking powder
½ teaspoon baking soda
½ teaspoon salt
2 sticks unsalted butter, room temperature
2 ¼ cups granulated sugar
3 tablespoons freshly grated lemon zest (about three lemons)
5 eggs
¼ cup freshly squeezed lemon juice
1 cup plain yogurt
For the delicious glaze:
1 cup powdered sugar
2 teaspoons freshly grated lemon zest
2 tablespoons freshly squeezed lemon juice
1 teaspoon dried lavender
a splash of milk or cream (optional)

Happy baking!