Everyone needs an easy streusel cake recipe and this Berry Streusel Cake is a great one to have on hand.
Let's be clear – this berry streusel cake is super easy and super tasty.
Streusel is just another name for crumble and while it's really easy to throw together, it gives cake a lovely taste and texture contrast that's hard to beat. Whether you call it streusel or crumble, it's simply rolled oats, flour, sugar, cinnamon and chilled butter all mixed together. And the more streusel the better in my view.
The streusel tops a plain cake with a generous two cups of mixed berries – frozen is perfectly fine for this recipe (possibly preferable).
The combination of cake, berries and streusel is simply fantastic. Divine served warm with ice-cream or cream as dessert, this Easy Berry Streusel Cake is equally delicious served cold with a cup of tea or coffee. Or dare I suggest, for breakfast – go on…
This Streusel Cake Recipe, Easy Berry Streusel Cake is baked with love by Today's Nest.
Do you like crumble cakes as much as I do? If so, have a look at this Cherry Almond Cake.

Streusel Cake Recipe - Easy Berry Streusel Cake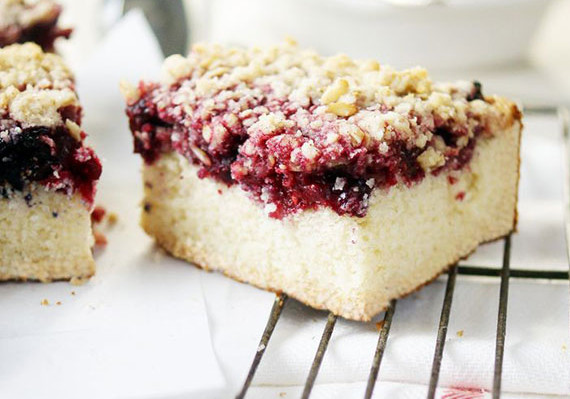 Ingredients
For the streusel:
½ cup rolled oats /50g
¼ cup all purpose flour /60g
¼ cup granulated sugar /60g
4 ½ tablespoons cold butter
½ teaspoon cinnamon
For the cake:
2 cups all purpose flour /265g
2 ½ teaspoon baking powder
¼ teaspoon salt
½ cup shortening
2 tablespoon butter at room temperature
¾ cup granulated sugar /150g
1 egg
½ cup milk
2 cups frozen mixed berries