My-oh-my-oh-my I do love this recipe for Lemon Cake with Lemon Curd Filling. Although you're probably not surprised to hear that really, given my well documented love for anything lemony.

But this gorgeous cake takes lemon deliciousness to whole new levels.
Lemon curd has to be one of the best ways of upping the lemon flavor in a cake without adding too much sweetness, sourness or syrupy wetness.
And this recipe certainly strikes that lemon balance perfectly – a big, bold lemon taste that's not too sweet or too tart.
But wait! There's more.
If layers of lemon cake and lemon curd filling isn't quite enough to satisfy your lemon desires, throw in lashings and lashings of Lemon Buttercream Frosting and be transported to lemon cake heaven. I'll be there waiting for you.
The champion baker responsible for this brilliant Lemon Cake with Lemon Curd Filling is Lindsay over at Life, Love and Sugar (what more is there really? Maybe Chocolate).
If you like your cakes with curd fillings as much as I do, this Coconut Cake with Pineapple Curd Filling will move your world.

Lemon Cake with Lemon Curd Filling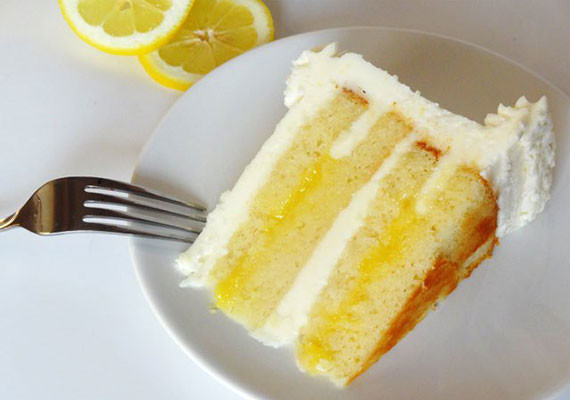 Ingredients
For the Lemon Cake:
2 cups all purpose flour
1½ cups sugar
¾ tsp baking powder
1 tsp baking soda
½ tsp salt
3 eggs
⅔ cup oil
⅔ cup lemon juice
¾ cup sour cream
For the Lemon Curd Filling:
¼ cup fresh lemon juice (about 1-2 lemons)
2 tsp finely grated lemon zest
⅓ cup sugar
4 egg yolks
3 tbsp butter
For the Lemon Buttercream:
1½ cups butter
1½ cups shortening
12 cups (3 lbs) powdered sugar
3 tsp finely grated lemon zest
6 tbsp lemon juice
¾ tsp vanilla
1-2 tsp water