A fantastic lemon raspberry cake recipe. As pretty-as-a-picture and all red and white, this delicious light sponge cake is surrounded by a cloud of whipped cream and then decorated with shards of white chocolate and fresh raspberries.
A beautiful cake for when you're out to impress. And impress you shall.
Don't be put off by the thought of having to make the white chocolate shards. They may be impressive to look at but they are actually very easy to make and very forgiving too. A very handy cake decorating tip that you should have up your sleeve.
Pile those raspberries high for maximum impact. Or you could substitute for blueberries for a blue and white cake sensation.
The very talented Oh Sweet Day shares this great lemon and raspberry cake.

Lemon and Raspberry Cake Recipe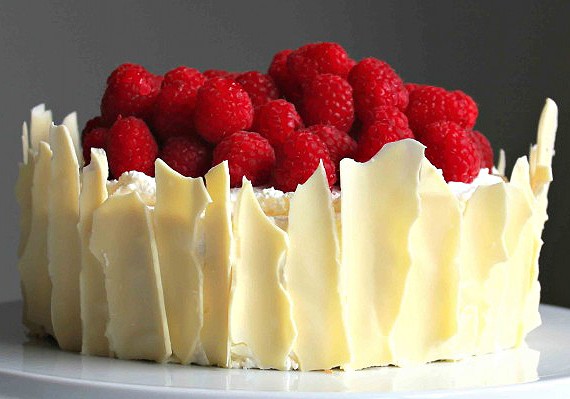 Ingredients
100 gram white chocolate, chopped
3 large eggs, room temperature, separated
½ cup granulated sugar
½ teaspoon vanilla extract
1½ teaspoon lemon juice
1 tablespoon lemon zest
½ cup cake flour, sifted
1½ cups whipping cream
2 tablespoons icing sugar
¼ cup good quality berry jam
2 cups fresh raspberries

Happy Baking!