A gorgeous fruity cake recipe that reminds us it's very possible to have a healthy, tasty and easy cake all at the same time.

There are a few surprises with this recipe.

Firstly, it's just bursting with fruit. There are blueberries and nectarines as you can see in the photo, but there's also an option for mashed up banana instead of oil in the cake batter. A tick for healthy and a tick for tasty.
All that fruit is a very good thing in my book and it allows you to cut down on the sugar quantity, potentially halving the amount of refined sugar used (depending on your tastes). Another healthy tick.
And the recipe uses pistachios. Can you ever go wrong with pistachios in cake? Pistachios deliver great color, texture and taste – what more could you ask for? Nutrients too – pistachios have got you covered there. More ticks for healthy and tasty.
Then, this may surprise you to learn, but this cake is actually a vegan fruit cake recipe – no dairy, butter, milk or eggs here. Soy yogurt replaces regular yogurt, almond milk replaces cow milk, and "flax eggs" are the binding agent instead of normal eggs. To learn how to make flax eggs for use in baking, have a look here. Whether you're vegan or not, this is a fruity cake that almost everyone can enjoy.
Finally, there's a lovely ease and casual freedom about the recipe as it uses the empty yogurt containers are the measurement for the other ingredients. Measurements are all about ratios and consistency so it works perfectly here.
This great Eggless Fruit Cake with Nectarines and Berries is shared by the queen of healthy treats, Heather at Sunday Morning Banana Pancakes.

Eggless Fruit Cake with Nectarine and Berries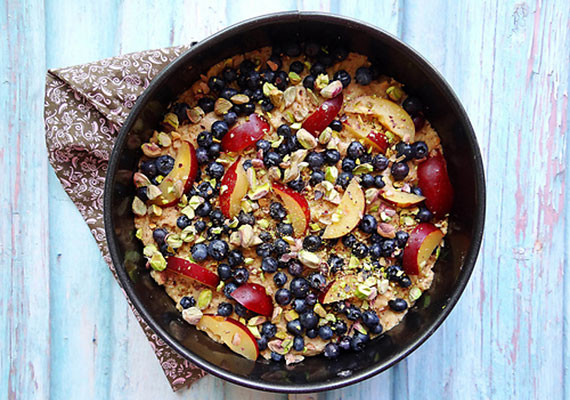 Ingredients
2 - 6oz containers soy yogurt
2 flax eggs (2 tbsp ground flax + 6 tbsp warm water blended)
1 - 2 containers sugar
tsp vanilla
just under 1 container vegetable oil or substitute mashed banana
1 container almond milk
4 containers flour
1½ tsp baking powder
2 containers blueberries
1 nectarine, pitted & sliced
½ container shelled pistachios, roughly chopped