This gorgeous Lemon Chiffon Cake is light and fluffy with a tender, moist crumb and delicate fresh lemon flavor.

There's something extremely satisfying about baking a cake which rises as high as this beautiful example from Sugary Winzy.

Have you tried baking chiffon cake before? Honestly, they can be a little daunting first time around, but it's a great style of cake to master. Chiffon cakes make the perfect birthday or celebration cakes as they are extremely versatile.

Think of this Lemon Chiffon Cake as your blank canvas.

You could serve it plain, add a syrup, layer it with frosting, cream or mascarpone, decorate it with fresh fruit, berries, curd or jams – the possibilities are endless really (click through to the recipe to see this cake transformed into a beautiful triple-layer party cake, thanks to an Italian meringue buttercream frosting and a few pretty sprinkles).

Chiffon cakes have a richer, deeper flavor than that of their cousins, the angel food cake. This is due to the inclusion of the egg yolks in chiffon cake (egg yolks are left out of angel food cakes).
Remember, technique is your friend when it comes to chiffon cakes and this recipe helpfully gives you step-by-step instructions and pictures to help you out.
There are also a number of hints and tips along the way, including don't grease your pan. The cake batter needs something to grip onto for it to rise to an impressive height.
You can buy specialty chiffon or angel food cake pans that are designed to help you master the perfect chiffon cake. The pans are very deep and have little "feet" so you can cool the cake properly. You can see this type of pan here: Chiffon Angel Food Cake Pan
If you don't have a special pan, try inverting the cake over the neck of a glass bottle until completely cool (the recipe will guide you). Don't skip this step – chiffon cakes need to be cooled upside-down and surrounded by good airflow, so that condensation doesn't cause the cake to collapse. But seriously, if you plan to make a few chiffon cakes over time, I think a specialty pan is worth its weight in gold (and at less than $15 a good investment for you).
This lovely Lemon Chiffon Cake recipe and tutorial is shared by the chiffon cake queen, Sugary Winzy.

Lemon Chiffon Cake Recipe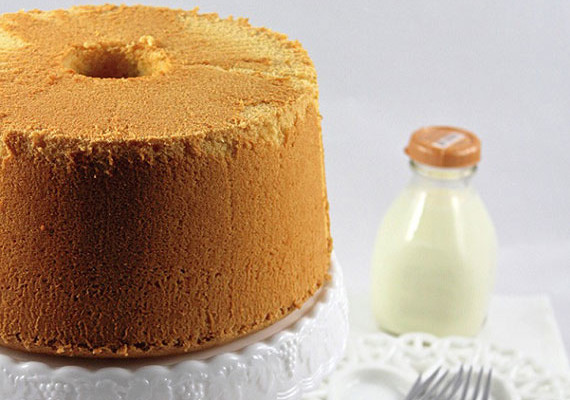 Ingredients
2⅓ cups all-purpose flour
1 ½ cups sugar
3 teaspoons baking powder
1 teaspoon salt
¾ cup water
½ cup vegetable oil
2 teaspoons vanilla
1 tablespoon grated lemon zest
1 teaspoon lemon extract
8 egg yolks
8 egg whites
½ teaspoon cream of tartar