Here's a confession – I obsess about food. Cakes, of course, but all types of healthy and delicious food. Food that feeds the soul as well as the body. Some days it's a decadent chocolate cake, other days a green smoothie.

Ever since I discovered this healthy cheesecake recipe from the lovely Emily at The Rawsome Vegan Life, I CAN NOT STOP THINKING ABOUT IT.

Every aspect of this cheesecake sounds amazing.

The base is simply raw nuts and dates or raisins blitzed in your food processor. I usually prefer dates for bases like this as you get that lovely caramel flavour. Use whatever nuts you like, but raw almonds (with skins) and walnuts are a very good combination.

Then you have the cheesecake layers.
Ok – so it's not "cheesecake" in the strictest sense of the word, there's no cream cheese or mascarpone here.
The cheesecake layers are essentially made from three cups of cashews blended into a paste with fresh orange and lemon juice, orange zest, maple syrup (or agave) and coconut oil.
For the blueberry layer you simply add pureed blueberries to some of the orange cheesecake mixture. Decorate with orange slices and blueberries and you're done.
That's it. Nothing more – how delicious – and healthy – and pretty.
It's gluten free, dairy free and suitable for vegans.
Alas, as obsessed as I am with this recipe, I can't make it at the moment as my ancient blender is not up to the task of making the filling as silky smooth as it needs to be. But the good news is that a new super blender is on its way to me and this gorgeous cheesecake will probably be the very first thing I make with it. I'll keep you posted.
This healthy cheesecake recipe is shared with love by Emily from The Rawsome Vegan Life.

Healthy Cheesecake Recipe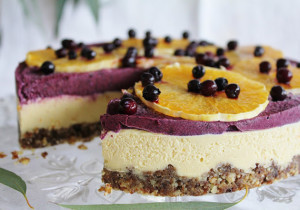 Ingredients
For the Crust:
2 cups raw nuts
1 cup dates or raisins
pinch of salt
For the Orange Cheesecake:
3 cups cashews
¾ cup fresh orange juice
½ cup agave/maple syrup
½ cup melted coconut oil
juice of one lemon
zest of all the oranges you juiced
pinch of salt
For the Blueberry Layer:
2 cups organic blueberries (i used frozen)
¼ cup of the orange cheesecake mixture