For many people, quinces belong in the too hard basket. I mean, a fruit you can't even eat in raw form, is sticky and icky to peel, and you need serious muscles (and a serious knife) to cut through it.

Most people only know quince from quince paste, the ruby-red jelly accompaniment to a cheese platter.
But there are hidden delights to this humble fruit if you know how to treat it right.
Like many good things in life, a quince is a joy when you take some time with it. The transformation of a quince is quite magical – you start with a rock hard, sour chunk of white, grainy flesh, which treated with patience and care transforms into a soft, sweet, slightly tangy and delicately perfumed fruit with the most gorgeous deep red color when cooked for long periods of time.
Quinces are coming back in fashion – there's a bit of a retro buzz to quinces now and this cake recipe from Lemon Pi, showcases slow-cooked quinces in all their splendid glory.
You'll be a quince convert – I guarantee it.
If you're looking for another old fashioned cake, this Persimmon Cake recipe is a winner.

Quince Cake Recipe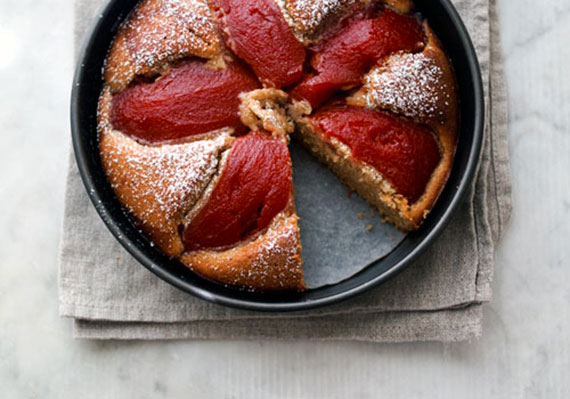 Ingredients
115g butter, browned, strained and kept warm
120g icing sugar
130g buckwheat flour
pinch of sea salt
½ teaspoon baking powder
½ teaspoon ground long pepper (if you don't have this, use a spice of your choice)
½ teaspoon ground cardamom
150g egg whites
finely grated zest of 1 mandarin
1 large slow-cooked quince, sliced