An easy Eggless Plum Cake recipe that everyone will enjoy.

In this recipe, a lovely almond cake is topped with sliced fresh plums. But what makes this recipe extra special is that the cake is sweetened with maple syrup which caramelizes as it bakes.
Simple, sweet and pretty as a picture, this is a great tea time cake, or perhaps a special breakfast treat.
Without eggs or dairy, this Eggless Plum Cake recipe is suitable for vegans too – I guess you could also call it a Vegan Plum Cake if you prefer.
Ana Fernandez shares her wonderful Eggless Plum Cake recipe.
If you're looking for more eggless cake recipes, may I suggest this Eggless Banana Cake or the ever popular Egg-free Chocolate Sponge Cakes.

Eggless Plum Cake Recipe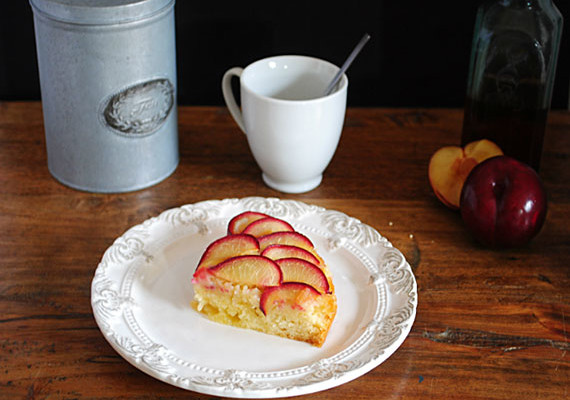 Ingredients
¾ Cup whole wheat flour
½ Cup sugar
1 teaspoon baking powder
¼ Cup oil
½ Cup almond milk
¼ Cup sliced almonds
¼ Cup maple syrup + more for decoration
1 Teaspoon vanilla extract
Pinch of salt
2 Plums sliced