An Easy Chocolate Cake recipe that contains a massive nine eggs and 16 ounces of dark chocolate (that's nearly half a kilo). It packs a serious punch.
But you'll be so glad you made it. And so will your friends and family.
This recipe gives you the most fudgey, rich chocolate cake you can possibly imagine. It's such a great cake for dinner parties or when you need to make an impressive cake in advance. The flavours intensify and get even better (if that's possible) after a day or so.
The recipe is easy too. There are only 4 ingredients after all. It's one of those chocolate cakes where you separate the eggs and fold the chocolate/butter/egg yolk/sugar mixture into the stiffly beaten egg whites. Not hard at all.
The top of the cake will sink a little and crack too (you sometimes see these types of chocolate cake recipes referred to as "Cracked Chocolate Earth" cakes and similar). Either dust the top of the cake with a generous layer of icing sugar or good quality cocoa powder/drinking chocolate.
Or, if you are sure you're going to consume the whole cake in one sitting, you can also load it up with lashings of thick whipped cream plus/minus berries.
I don't say this lightly, but this is one of the best chocolate cakes I've baked.
The very talented Nesting Project shares this great Easy Chocolate Cake recipe.
More like this. Try our extensive collection of chocolate cakes.

Easy Chocolate Cake Recipe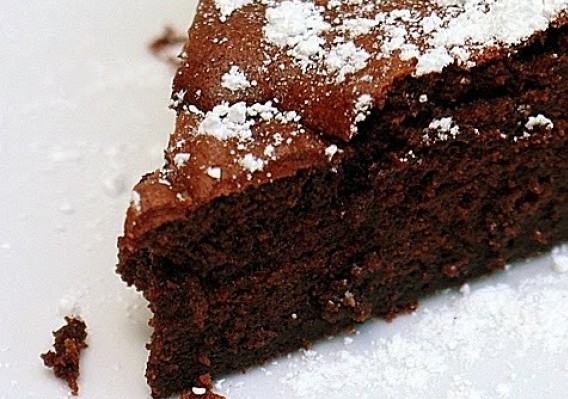 Ingredients
16 oz bittersweet chocolate
8 oz unsalted butter
¾ cup sugar
9 eggs separated