A fabulous combination of flavors and textures and surprisingly easy to make. There's a certain rustic appeal to cakes like this which I find very appealing – and delicious, of course.

This Fresh Pear and Walnut Cake uses halved ripe pears baked straight into the batter. The pears are not poached or pre-cooked in any way so they must be very ripe.
That's right – you just wash and core the pears (leaving their stalks for presentation) and arrange them in your cake pan before pouring in the cake batter. Simple.
The batter is lightly spiced with cinnamon and ground ginger and uses a combination of almond meal and flour for a denser texture and richer base flavor. The half a cup of walnuts adds even more nutty, earthy flavors as well as a little crunch. This is all kept moist with buttermilk and oil, plus the sweet lusciousness of the baked pears.
Helpfully, the recipe provides methods for both a stand mixer or a food processor. Personally I usually tend towards the food processor when there's an option, but it doesn't really matter with this recipe as there's no creaming of butter and sugar required, so both mixer and processor are equally as easy.
This lovely recipe shared by the extremely talented Bakers Royale.

Fresh Pear and Walnut Cake Recipe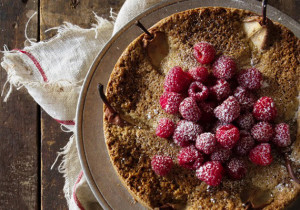 Ingredients
1¾ cup of all-purpose flour
½ cup of almond meal
1 teaspoon baking powder
½ teaspoon baking soda
½ teaspoon cinnamon
¼ teaspoon ground ginger
½ cup (2oz) chopped walnuts
2 large eggs
1½ cup granulated sugar
½ cup buttermilk
½ cup extra virgin olive oil
3-4 Bartlett pears (medium size, about 6oz. each), halved and cored
Instructions
For the full recipe go here.