It's no surprise that this French Chocolate Cake recipe is such a winner.
As we all know, the French are very good at cake – and pastries, and macarons, and crepes, and chocolates, and custards, and breads, etc etc etc…
This recipe uses icing sugar for the cake batter which is a little different and makes for a lovely fine texture. The cake is moist, rich and decadent.
Topped with the brandy or rum spiked chocolate ganache and decorated with that lovely ring of chopped pistachios, it's a deliciously elegant chocolate cake.
This French Chocolate Cake recipe is brought to you by the lovely Mable Tan at Happee Monkee.
Feeling like something else from France. This Gateau Breton French Shortbread fits the bill. Or would you prefer more chocolate cakes? Have a look at our list of the best chocolate cakes around.

French Chocolate Cake Recipe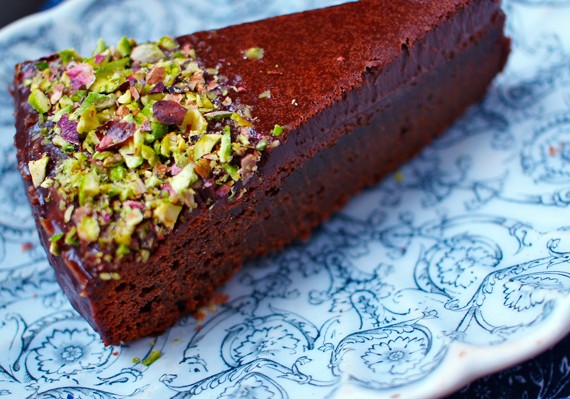 Ingredients
For the Chocolate Cake:
¾ cup icing sugar
280g dark chocolate, chopped
¾ cup unsalted butter, chopped
2 tsp vanilla essence
5 eggs, separated
¼ cup of plain (all-purpose) flour, sifted
pinch of salt
For the Chocolate Ganache:
8 ounces, or approximately 230g semi-sweet chocolate, chopped
1 cup heavy cream
2 tbsp brandy or rum
2 tbsp unsalted butter, softened

Happy baking!