This Cherry Almond Cake is a true delight. A lovely buttermilk cake with almond and vanilla flavours and a layer of luscious cherries is topped with a crunchy almond streusel topping and a sweet almond glaze. The flavours, textures and colours combine perfectly here for a very special cake.
And while fresh cherries are ideal, if you don't have them on hand, I have used frozen cherries with great success.
Perfect for afternoon tea. Or morning tea. Or brunch. Or anytime really. I'll go put the kettle on shall I?
The very talented Two Peas and Their Pod shares this gorgeous Cherry Almond Cake recipe.
For more cherry cakes like this, head on over to our Cherry Cake Recipe Collection where you'll find some of the best cherry cake recipes around.

Cherry Almond Cake Recipe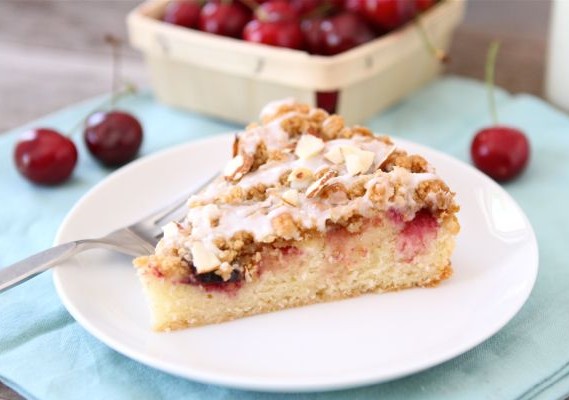 Ingredients
For the Cake:
6 tablespoons unsalted butter, at room temperature
1½ cups all-purpose flour
1½ teaspoons baking powder
½ teaspoon salt
1 cup granulated sugar
1 large egg
½ cup buttermilk
½ teaspoon vanilla extract
½ teaspoon almond extract
1½ cups fresh cherries, stemmed, pitted and halved
For the Almond Streusel Topping:
¼ cup all-purpose flour
¼ cup brown sugar
¼ cup almond paste, crumbled
2 tablespoons cold unsalted butter, cut into small pieces
Pinch of salt
To make the Glaze:
½ cup powdered sugar
¼ teaspoon almond extract
2 to 3 tablespoons milk
¼ cup toasted sliced almonds (optional)