A great Zucchini Carrot Cake recipe with a dreamy creamy maple frosting. With a whole cup of zucchini and another cup of grated carrots.
With so many vegetables in this Zucchini Carrot Cake surely it counts as dinner?
Dinner or otherwise, if you're a carrot cake fan like I am, you'll love this recipe.
Both the grated zucchini and carrot add to the moistness of the cake. Another reason I like this recipe is that there is a whole host of spices – cinnamon, cloves, ginger and nutmeg.
Top with the creamy Maple Brown Sugar Frosting that's made with cream cheese, butter, brown sugar, maple syrup and vanilla, and the kids will be eating their vegetables and asking for more.
This Zucchini Carrot Cake recipe is brought to you by Kitchen Simplicity.
Or if you prefer a more traditional Carrot Cake, I pretty much guarantee you'll love this version – Carrot Cake.

Zucchini Carrot Cake Recipe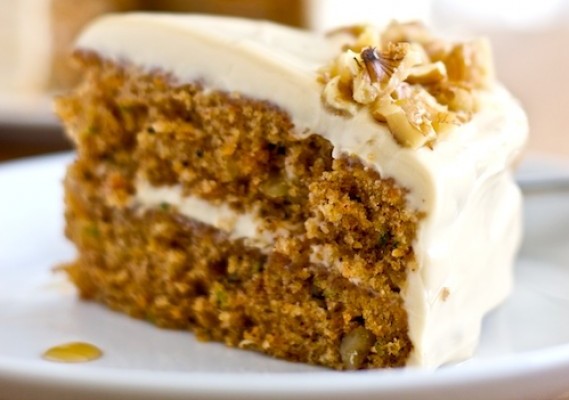 Ingredients
For the Zucchini Carrot Cake:
2 eggs
1 cup sugar
⅔ cup canola oil
1¼ cups flour
1 teaspoon baking soda
1 teaspoon baking powder
1 teaspoon cinnamon
½ teaspoon ground cloves
½ teaspoon ground ginger
¼ teaspoon ground nutmeg
½ teaspoon salt
1 cup shredded carrots
1 cup shredded zucchini
½ cup chopped walnuts
For the Maple-Brown Sugar Frosting:
1 (8oz) package cream cheese, softened
¼ cup butter, softened
¼ cup brown sugar
¼ cup maple syrup
1 teaspoon vanilla