If you're looking for an amazing chocolate cake recipe, look at this Seven Sins Chocolate Cake.
This cake is not for the faint-hearted. Either to eat or bake. But if you're up for a baking challenge this is it!
There's a lot to it: devils food chocolate cake, dark chocolate whisky cream, milk chocolate mocha cream, white chocolate dulce de leche, milk chocolate marshmallow frosting, dark chocolate drizzle and chocolate shavings and decorative chocolate pieces.
I do love a recipe that includes the phrase "trio of pastry creams". As I said to begin with, an amazing chocolate cake recipe.
With all of that decadence, I'm surprised it's only seven sins really. But if this does amount to seven sins (or possibly more), looks like I'm probably going straight to hell. Happily though.
The cake expert behind this Seven Sins Chocolate Cake is Sprinkle Bakes.
The antidote to such a sinful cake may be a heavenly Raspberry Angel Cake.

Seven Sins Chocolate Cake Recipe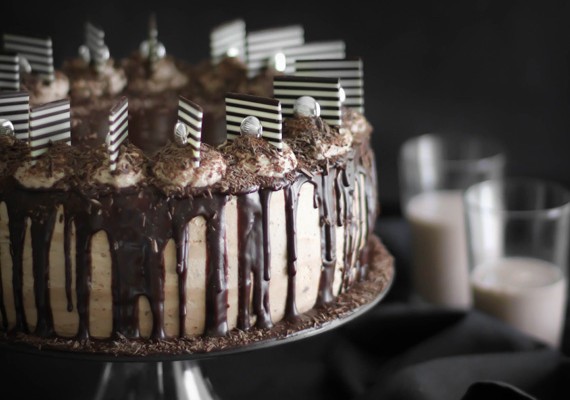 Ingredients
For the Devil's Food Cake:
1 oz. fine quality unsweetened baker's chocolate, chopped evenly
¾ cup plus 1½ tbsp. unsweetened cocoa powder
1 cup hot coffee (can use hot water or decaf coffee if caffeine sensitive)
2 eggs
2 egg yolks
¼ cup sour cream
1 tbsp vanilla bean paste or vanilla extract
2¼ cups all purpose flour
1½ cups light brown sugar, tightly packed
1 tsp baking soda
½ tsp salt
16 tbsp (2 US sticks) unsalted butter, softened
For the Trio of Pastry Creams:
2.5 oz. dark chocolate
2.5 oz. white chocolate
2.5 oz. milk chocolate
¼ cup cornstarch
2 cups evaporated milk
2 eggs
4 egg yolks
¾ cup granulated sugar
3 tablespoons unsalted butter
2 tbsp. whiskey
3 tbsp. dulce de leche (canned)
1-2 tsp. espresso powder (to taste)
For the Milk Chocolate Marshmallow Frosting:
12 tbsp (1½ US sticks) unsalted butter, softened
2⅔ cups powdered sugar
6 oz. milk chocolate melted and slightly cooled
7 oz. marshmallow cream
For the Dark Chocolate Drizzle:
4 oz. dark chocolate chopped evenly
½ cup whipping cream
¼ cup light corn syrup
2 tsp. vanilla
For the Decoration:
Chocolate shavings
Chocolate pieces