An Easy Lemon Cake that's made in your food processor. Lemon cake doesn't get much simpler really.

I've been experimenting with food processor cake recipes lately while I'm sans mixer. And this is one of the best food processor cake recipes I've found.

A basic cake batter of butter, milk, eggs, flour and sugar is flavored with the zest from 2 lemons. That's it. No vanilla, no lemon juice – just the zest for flavor.

And everything is just popped in the food processor at once and whizzed until combined.

The cake is light and moist with a really good texture and crumb (some food processor cakes fail on this front). The lemon zest gives a great lemon flavor that's distinct but not overwhelming.

Perfect to whip up for a last minute afternoon tea.
As I said – an easy lemon cake. Easy-Peasy-Lemon-Squeezy.
And here's a little trivia for you. Did you know that the expression, "Easy-Peasy-Lemon-Squeezy" comes from a 1970s British TV commercial for a lemon scented dish-washing detergent?
But back to the cake – you can add a lemon syrup or icing to the cooled cake if you wish. But it is quite delectable all by itself or dusted with a little icing sugar.
I challenge you to find an easier lemon cake recipe. Let me know if you do.
For more great lemon cakes, take a look at this list of 10 of the best lemon cake recipes.
Easy Lemon Cake Recipe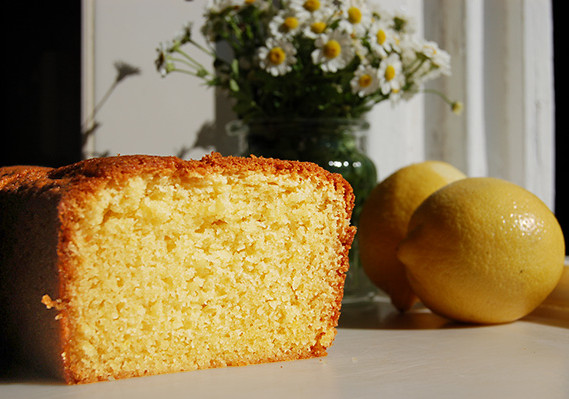 Ingredients
125g butter
175g caster sugar
175g self raising flour, sifted
1 tsp baking powder
2 large eggs
Zest of 2 lemons
65ml milk
Instructions
Step 1 - Preheat Oven 180 degrees C. Grease and line a medium sized loaf pan.
Step 2 - Place all cake ingredients into your food processor and whiz until smooth.
Step 3 - Pour cake mixture into the loaf pan. Smooth top of batter with wet knife.
Step 4 - Bake for 45-50 minutes.
Step 5 - Use a skewer/toothpick/small knife to test if the cake is done.
Step 6 - Allow to cool for 10 minutes in pan and then turn onto a wire rack to cool completely.