This Sticky Date Cake with Butterscotch Sauce is possibly the perfect comfort food.
The date cake is rich, sweet and delicious all on its own, but smother it in a divine Butterscotch Sauce and you're well on your way to dessert heaven.
Keep in mind that the date cake itself isn't "sticky", it's the butterscotch sauce that makes it so. The more sauce that soaks into the cake, the stickier the cake will become.
Served warm with vanilla ice-cream, you'd have to agree that cakes like this nourish the soul as well as the body.
The sublime Art of Baking shares this wonderful recipe for Sticky Date Cake with Butterscotch Sauce.
If you like the flavor of butterscotch, perhaps I can tempt you with this gorgeous Butterscotch Cake with Caramel Sauce.

Sticky Date Cake with Butterscotch Sauce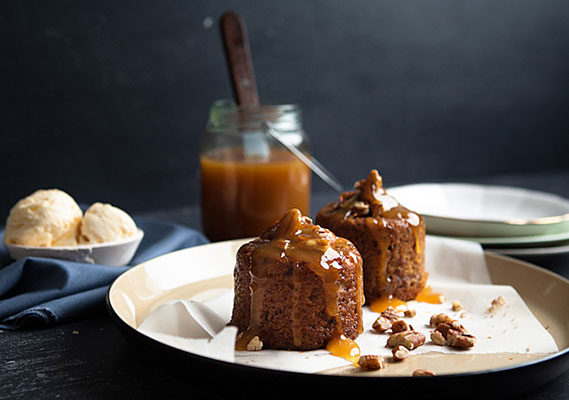 Ingredients
For the Sticky Date Cakes:
250g (1½ cups) deseeded dried dates, roughly chopped into small pieces
312ml (1¼ cups) water
1 teaspoon bicarbonate of soda (baking soda)
60g (1/4 cup) salted butter, chopped roughly
2 large eggs
1 teaspoon (5ml) vanilla extract
188g (1¼ cups) self-raising flour
150g (2/3 cup, firmly packed) brown sugar
Peacans for decorating
For the Butterscotch Sauce:
1 cup firmly packed brown sugar
60g butter
300ml pure cream