Yes, yes, I know this is yet another carrot cake recipe, but I just had to share this wonderful twist on the classic carrot cake – Carrot Cake with Mascarpone Frosting.

Mascarpone frosting – what a brilliant variation on the usual cream cheese frosting for carrot cake.

I had to laugh when I read Ana from Fit, Fun & Delish's introduction to her recipe. Here was someone else who obsesses (sorry Ana – "thinks") about carrot cake like I do:
Dreaming of carrot cake. That's what I did for the past 7 months until this weekend. I made this carrot cake for Thanksgiving last year and ever since then I've been obsessing thinking about making it again. This is honestly the best carrot cake I've ever had! It's moist and has the perfect sweetness to it. So good.
I think you would agree it's a cake worthy of obsession. The cake itself is good and moist thanks to vegetable oil and grated carrot. Plus there are raisins and walnuts plus a touch of vanilla and cinnamon for a gentle spice.
But it was the mascarpone frosting recipe that truly caught my attention. Mascarpone, heavy cream and a touch of cream cheese (for all you carrot cake with cream cheese frosting purists out there). Inspired!
This wonderful Carrot Cake with Mascarpone Frosting recipe is shared by Ana at Fit, Fun & Delish!
There's no question I love my carrot cake. If you're looking for other interesting carrot cake ideas, here are a few more carrot cake recipes to add to your repertoire.

Carrot Cake with Mascarpone Frosting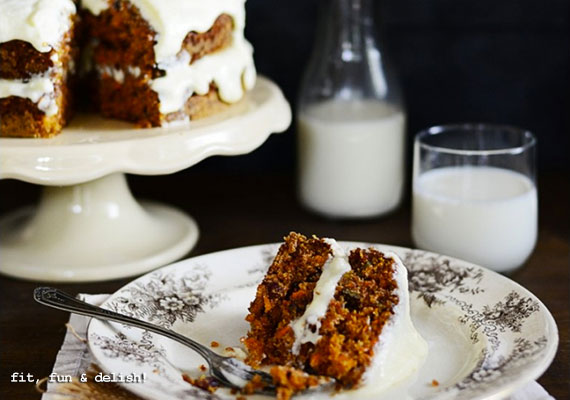 Ingredients
For the Carrot Cake:
Sugar
Vegetable oil
3 large eggs
Pure vanilla extract
All-purpose flour
Ground cinnamon
Baking soda
Kosher salt
1 pound carrots, grated
Raisins
Walnuts
For the Mascarpone Frosting:
12 oz mascarpone cheese
Cream cheese
Confectioners' sugar
Heavy cream
Pure vanilla extract
Kosher salt