This clever Crepe Cake recipe uses such a genius technique I just had to share it.

What is absolutely revolutionary about this crepe cake recipe is that you don't make each crepe separately in a pan and then struggle layering a dozen crepes of slightly different shapes, sizes, colors and textures.
I mean, even Martha Stewart's crepe cakes look a bit wonky to me.
To make this crepe cake, you bake each layer of crepe on top of the last inside a spring form pan, with the luscious orange curd spread in between each layer.
You then refrigerate the cake in the spring form pan until well set. When you remove the tin – Voila! – a perfectly formed crepe cake every time.
That technique means the bottom crepe can be baked over 10 times, but surprisingly it doesn't hurt it at all.
This method reminds me of how you might layer different colored jelly on top of each other, allowing each layer to set before adding the other, to achieve a rainbow or striped effect.
And don't just stop at orange curd filling either. How about caramel, Nutella, chocolate ganache, fruit jams, pureed cherries or berries – the crepe cake possibilities are endless now that you know this great technique.
How clever, and utterly delicious, is that? Give this baker some sort of prize.
The brilliant En Mi Cochina Hoy shares this fantastic Crepe Cake recipe.

Crepe Cake Recipe - and a Genius Crepe Cake Technique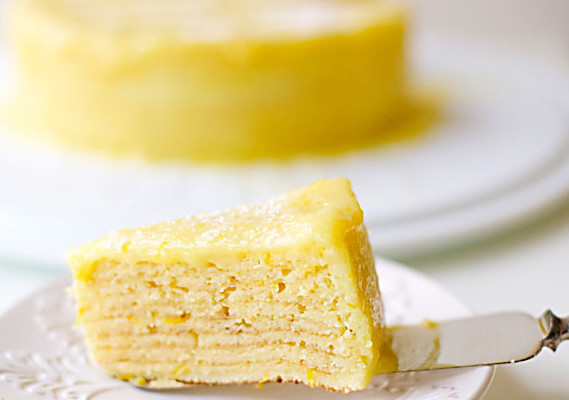 Ingredients
For the Crepes:
225 grams of butter unsalted at room temperature
1 cup granulated sugar
pinch of salt
10 eggs, yolks and whites separated
1¼ cup all-purpose flour
For the Orange Curd Filling:
3 oranges, grated orange peel and juice
6 eggs
500 grams of granulated sugar
125 grams of butter