Everyone says good things come in small packages – delicious small chocolate cake packages to be precise with these divine Chocolate Mochi Cakes.
I first came across mochi while in Japan and it was love at first bite.
And a Japanese rice cake is at its best when the wonderful chewy ball of pounded rice goodness is filled with all manner of delicious centres, such as traditional sweet red-bean or the popular ice-cream mochi.
But the epiphany for me was discovering chocolate mochi cake. Died and gone to heaven.
This individual cake recipe has a special place in my heart. I always love petit four style cakes – so dainty.
This Chocolate Mochi Cake recipe uses mochi flour – mochiko flour, which is simply sweet rice flour.
The mochiko flour is known as glutinous rice flour because of its sticky texture but it is gluten free (easy to get confused with that one).
The mochiko gives these chocolate mini cakes a lovely firm (but not hard) texture – and a good "bite".
There is a healthier twist due to the unsweetened coconut milk, coconut oil and reduced sugar content. But dipped in a good quality dark chocolate you won't miss out on a serious chocolate hit.
And it's probably good that these cakes are a little healthy and small because I don't think you'll be stopping at just one.
The cake genius behind these Chocolate Mochi Cakes is the very talented Kumquat.
Want more great small cake recipes? Take a look at these individual apple cakes.
Small Chocolate Cake Recipe - Chocolate Mochi Cake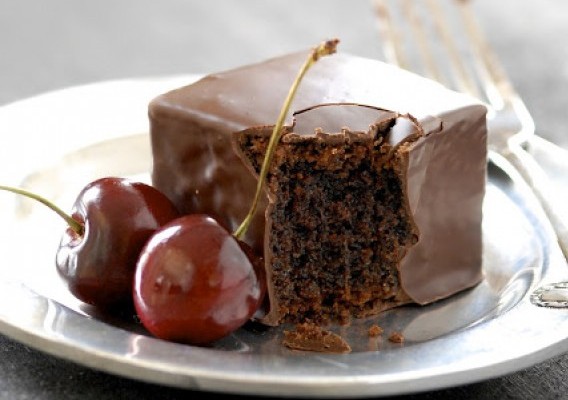 Ingredients
Cooking spray
2 ¼ cups (about 325 grams) sweet rice flour (mochiko)
1 ¾ cups sugar
2 ½ tablespoons dark cocoa powder
½ tablespoon baking soda
7 ounces canned unsweetened coconut milk
6 ounces 2% evaporated milk
2 large eggs
½ tablespoon vanilla extract
¼ cup melted coconut oil
12 ounces dark chocolate, melted

Happy Baking!