There are quite few Chocolate Eclair Cake recipes floating around the internet, but this is by far my favorite.

What I really like about this particular Chocolate Eclair Cake is that it's all homemade.
No packaged custards, creams or commercially produced chocolate frostings so you know exactly what goes into this Chocolate Eclair Cake. That's always my preference when it comes to baking (any food stuffs actually).
It may be all homemade but it's still very easy to put together. Layers of graham biscuits, vanilla pudding with whipped cream and a chocolate glaze.
Actually, the most difficult thing with this Chocolate Eclair Cake is waiting the 6-24 hours it needs to set in the fridge. But with no baking involved, it's a perfect summer dessert.
The ever delightful The Galley Gourmet shares this homemade Chocolate Eclair Cake recipe.

Chocolate Eclair Cake Recipe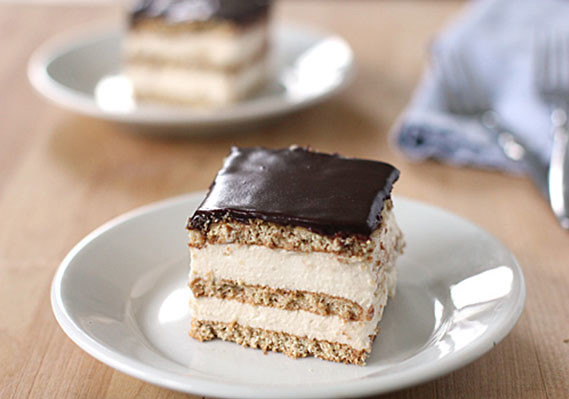 Ingredients
1¼ cup granulated sugar
6 Tablespoons cornstarch
1 teaspoon kosher salt
5 cups whole milk
4 Tablespoons unsalted butter, cut into Tablespoon pieces
5 teaspoons pure vanilla extract
2 Tablespoons water
1¼ teaspoons unflavored gelatin powder
2¾ cups heavy cream, divided
30 graham cracker rectangles
1 cup semisweet chocolate chips
5 Tablespoons light corn syrup
¼ teaspoon espresso powder (optional)