A pretty Pink Birthday Cake that's fit for any princess. While, there's much to be said for chocolate birthday cakes, sometimes a more delicate celebration cake is called for.

There's something utterly delightful about a cake like this.
With its layers of cake, delicately colored buttery frosting and a halo of sprinkles, this is the perfect pink birthday cake.
And while this cake may very well be a perfect celebration cake, be warned, this cake is also a celebration of butter. The yellow cake itself is rich and moist – but it should be with a huge eight (yes eight!) egg yolks and a whole cup of butter. Then there's even more butter in the frosting – two cups (yes you read that correctly – two more cups of butter).
This is a great basic frosting recipe – it's the frosting used by the famous Magnolia Bakery. It has a very fluffy texture and is smooth and light. Surprisingly, while the frosting is light, it's also very stable (you actually cook it). Use this frosting recipe as a base to add anything from chocolate to flavoured extracts, essences, syrups, liqueurs, zest, etc etc etc. The possibilities are endless.
This Pink Birthday Cake is shared by the ever lovely Cupcakes and Cashmere.
If you prefer your birthday cakes on the chocolate side, take a look at these 10 Amazing Chocolate Birthday Cakes.

Pink Birthday Cake Recipe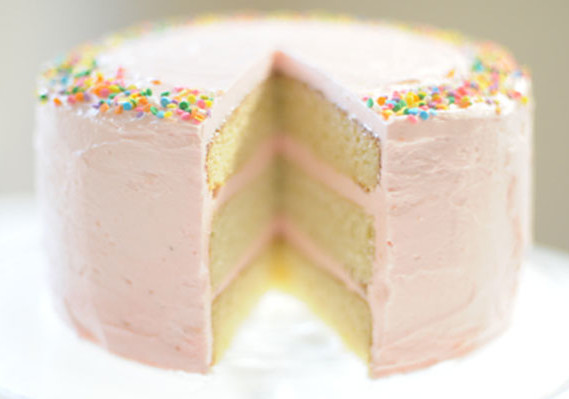 Ingredients
For the Yellow Cake:
1 cup butter
1½ cups white sugar
8 egg yolks
¾ cup milk
1½ teaspoons vanilla extract
2 cups cake flour
2 teaspoons baking powder
For the Pale Pink Frosting:
6 tablespoons all-purpose flour
2 cups milk
2 cups (4 sticks) unsalted butter, softened
2 cups sugar
2 teaspoons vanilla extract
Few drops of red or pink food coloring
Sprinkles to decorate