If you're looking for a recipe for Mango Cake, look no further. With a lovely crumble topping that's made very interesting indeed by the use of fresh cardamom, this easy mango cake is a delicious treat.
Mango and cardamom is a fantastic flavour combination that has been used in eastern cooking for generations. In this easy coffee cake these flavours simply shine. As well as lots of flavour, the textures of this cake are wonderful. There's a lovely contrast between the silky, juicy fresh mango in soft cake, and that yummy crumble topping.
Love mango but not a cardamom fan? Simply leave out the cardamom. Replace it with cinnamon or nutmeg if you still want the spice but either way you'll still have a great mango cake to enjoy.
This is a mango coffee cake in as much as it goes well with a cup of coffee but there's actually no coffee in the cake.
The clever cookie behind this recipe for Mango Cake is My Diverse Kitchen.

Fresh Mango Cake Recipe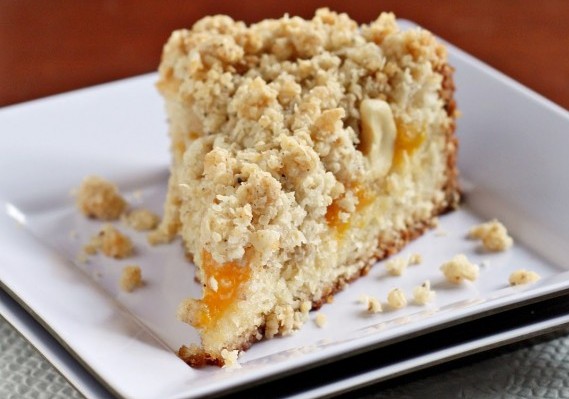 Ingredients
For the cake:
100gm butter, softened at room temperature
¾ cup granulated sugar
1 tsp vanilla extract
1 egg
1 tbsp milk
½ cup all purpose flour
½ cup cake flour
1 tsp baking powder
½ tsp salt
1 mango, cubed (about ¾ cup)
½ cup broken (or chopped) cashew nuts
1 tsp ghee (browned butter or butter)
Crumb/ streusel topping:
½ cup all purpose flour
¾ cup rolled oats
¼ cup brown sugar
30 gm chilled butter
3 to 4 cardamom pods, powdered