A wonderful Chocolate Meringue Cake recipe that will have you in sweet-creamy-crunchy-gooey-meringue-chocolatey heaven in no time at all.
This is a great meringue dessert that everyone will enjoy.
How do you make meringue you ask? Well it's not the easiest thing in the world to make, but it's not the hardest either. Follow this meringue cake recipe carefully and you'll be fine.
Besides, meringue cakes must be the most forgiving of cakes to bake. Any little issues you may have with the finished product are all covered up with lashings and lashings of whipped cream. Perfect. And delicious.
The lovely Nicole at Heat Oven to 350 suggests this Chocolate Meringue Cake for Valentines Day. I think every day and every occasion deserves a meringue dessert like this.
The cake genius behind this Chocolate Meringue Cake is Heat Oven to 350.

Chocolate Meringue Cake Recipe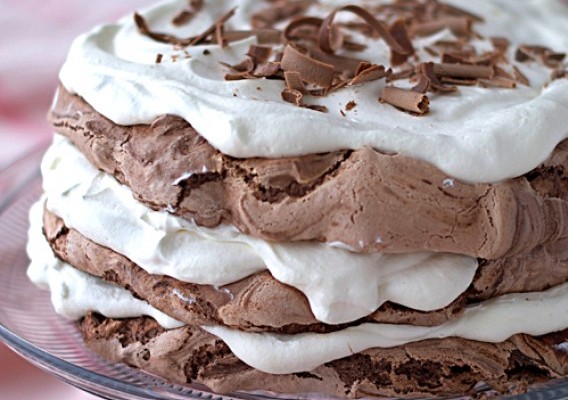 Ingredients
6 large egg whites (about 1 cup)
2 cups sugar
a pinch of salt
3 tablespoons unsweetened cocoa powder
2 tsp vanilla extract
½ tsp almond extract
1 cup mini chocolate chips
6 oz bittersweet chocolate, melted and cooled
3 cups heavy cream
¼ cup powdered sugar
Chocolate shavings for garnish