If I told you that this French Yoghurt Cake with Peaches was really, really easy would you believe me? Well it's absolutely true.
I'm a big fan of an easy cake that's topped with something fancy – and this is pretty fancy in my book.
The fresh peaches here are absolutely stunning. And again, very easy to make with a simple sugar syrup and a touch of orange juice.
The French Yogurt Cake itself is made with yogurt and olive oil so it's wonderfully moist. The almond meal adds a depth of flavor, texture and structure to the cake. Curiously, this French Yogurt Cake is made with Greek yogurt – how European. I guess really it's a French style yogurt cake made with Greek style yogurt.
The cake recipe is a great base for other fruit toppings (remember that amazing Strawberry Pimms Compote a while back?) And the peaches are brilliant with ice-cream or custard.
Keep in mind when you're making the sugar syrup, that you can make it more toffee like if you leave the sugar and water to simmer without stirring until it turns a pale straw color. Don't leave it too long though or you'll have a hard toffee and your peaches will end up like toffee apple – hard on the outside and soft on the middle.
And inspired combination for sure.
This lovely French Yogurt Cake with Peaches is baked with love by Spicy Ice-cream.

French Yoghurt & Almond Cake with Orange Caramel Peaches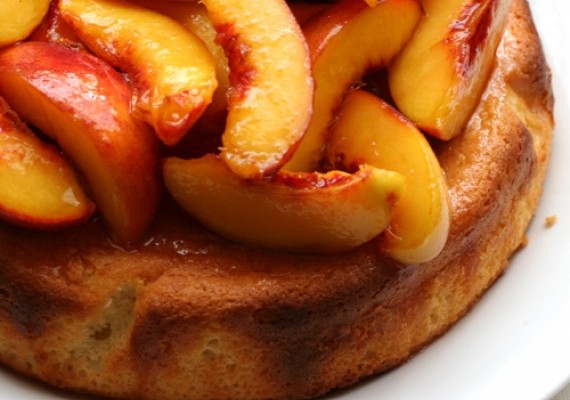 Ingredients
For the cake:
140g self-raising flour
4 eggs, separated
½ cup (110g) white sugar
¾ cup (210g) Greek-style yoghurt
⅓ cup (80ml) olive oil
1 lemon, finely grated rind and juice only
70g almond meal
1 teaspoon vanilla extract
½ cup (110g) caster sugar
For the Orange Caramel Peaches:
3 peaches, cut into wedges, stones discarded
200g white sugar
Juice of 1 orange

Happy baking!