This Chocolate Chip Zucchini Cake is another version of that cake creation loved by mothers all around the world, the Chocolate Zucchini Cake.
Incredibly easy to make, and even easier to eat. Whoever first put zucchinis in cake deserves some sort of medal.
I like this recipe as it's not as chocolatey as some zucchini cakes. The cake is moist and rich and studded with semi sweet chocolate chips, so you still get a good chocolate hit.
Freshly grated zucchini adds a soft, lush texture to cake which can't be beaten. I actually think the flavor of this cake is better on the second day – the challenge is not to eat it all before then.
This Chocolate Chip Zucchini Cake is so good it doesn't even need frosting or icing.
If you can't get your kids (or even some adults) to eat their vegetables, slipping in a few sneaky zucchinis has got to be a good thing. Just smile when they ask for seconds…
This lovely Chocolate Chip Zucchini Cake is from Made in Our Kitchen.
If you like this Chocolate Chip Zucchini Cake you should take a look at this lovely Blueberry Tea Cake also from the baking talents of Luisa at Made in Our Kitchen. There are a few surprise ingredients in this unassuming tea cake which give it an unexpected flavor hit. Luisa has a knack of taking everyday cake recipes and turning them into something even more splendid and special, but still practical and down-to-earth. Take a peek…

Chocolate Chip Zucchini Cake Recipe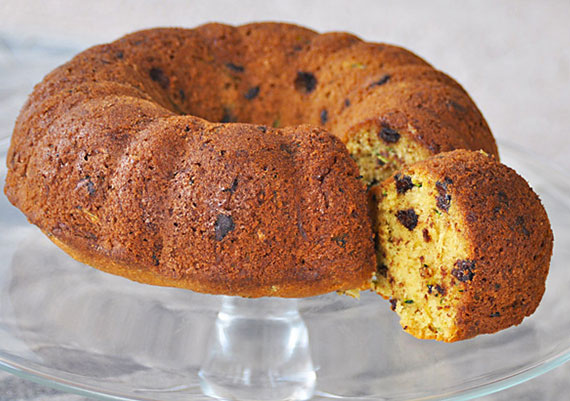 Ingredients
2½ cups all-purpose flour plus additional for dusting
1 teaspoon baking soda
½ teaspoon baking powder
½ teaspoon salt
2 sticks (1 cup) unsalted butter, softened
1 cup packed light brown sugar
1 teaspoon vanilla
3 large eggs at room temperature
2 cups coarsely grated zucchini (8 oz.)
1¼ cups semisweet chocolate chip