Check out this single-layer Hummingbird Bundt Cake recipe.
While I love the sky-high, multiple layered Hummingbird Cakes you often see, this is simpler but still fantastic.
If you're unfamiliar with Hummingbird Cake let me explain it this way – if a really good Carrot Cake married a lovely Banana Cake you would end up with Hummingbird Cake.
This one is dense, moist, slightly spiced with pineapple, banana and pecans. Yum.
The baking whiz behind this Hummingbird Bundt Cake recipe is the very talented Ryan Bakes.
Interested in more like this? Take a look at this great hummingbird cake.

Hummingbird Bundt Cake Recipe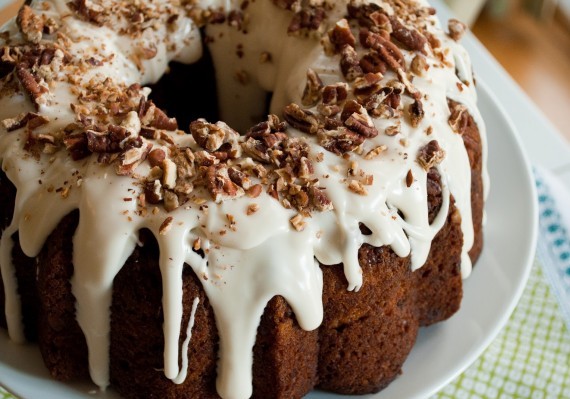 Ingredients
For the cake:
1½ cups chopped pecans
3 cups all-purpose flour
2 cups sugar
1 tsp. baking soda
1 tsp. ground cinnamon
½ tsp. salt
3 large eggs, lightly beaten
1¾ cups mashed ripe bananas (about 4 large)
1 (8-oz.) can crushed pineapple (do not drain)
¾ cup canola oil
1½ tsp. vanilla extract
For the glaze:
4 oz. cream cheese, cubed and softened
2 cups sifted powdered sugar
1 tsp. vanilla extract
1 to 2 Tbsp. milk

Happy baking!