A delicious yet super easy Blueberry Tea Cake.

Don't let those simple squares of plain looking cake deceive you – each one packs a big flavor punch with a couple of surprise ingredients that will get your taste buds jumping.
Obviously there are blueberries, but did you expect cardamom, dark brandy, Greek yogurt and lemon zest?
How's that for a lot of flavor in one Blueberry Tea Cake recipe? Better put the kettle on.
The delightful Made In Our Kitchen shares this fabulous Blueberry Tea Cake recipe.

Blueberry Tea Cake Recipe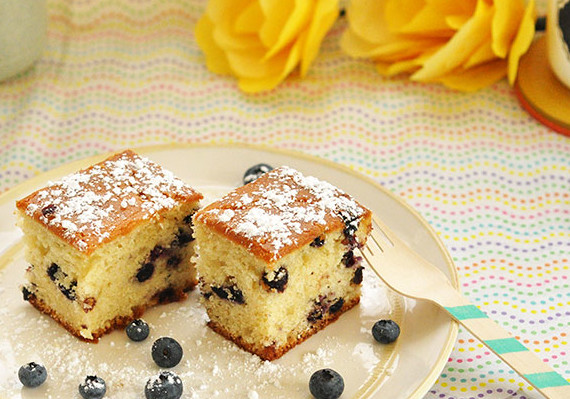 Ingredients
8 Tbs. (1 stick) unsalted butter, melted and cooled
2 cups all-purpose flour
1 tsp. baking powder
½ tsp. baking soda
¼ tsp. salt
¼ tsp. ground cardamom
2 eggs
1½ cups sugar
2 Tbs. dark brandy
½ tsp. grated lemon zest
1 cup plain Greek yogurt
3 tablespoons milk
1 cup fresh or frozen blueberries + 1 cup dried blueberries
Confectioners' sugar for dusting (optional)