This delicious Italian Hazelnut Cake is simplicity perfected. But don't mistake simple for dull – it's anything but. The cake has rich, toasted hazelnut flavours complemented by a generous burst of orange zest.
The traditional Italian hazelnut cake recipes don't see the use of flour, but this version does. It results in a slightly lighter textured version.
An easy-to-bake cake that's very versatile too. While lovely all by itself, this hazelnut cake recipe is a perfect canvas for you to add your own flavours.
The recipe suggests many variations including a chocolate, mocha or expresso glaze. Or how about serving with fresh berries, figs baked in honey and balsamic, syrupy peaches or nectarines, poached pears, balsamic cherries, honeyed apricots, caramelized apples or a simple cluster of grapes. How's that for options.
This Italian Hazelnut Cake is brought to you by the very talented Pastry Studio.

Italian Hazelnut Cake Recipe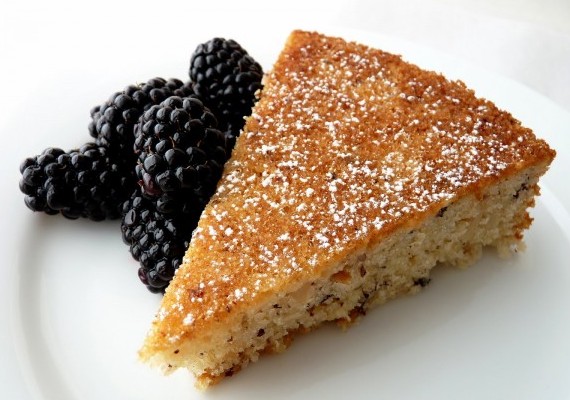 Ingredients
¾ cup flour
1 tsp baking powder
¼ tsp + ⅛ tsp salt
¾ cup plus ¼ cup toasted hazelnuts, divided
4 oz (8 Tblspn) butter at room temperature
½ cup sugar
2 eggs at room temperature
1 egg yolk
1 tsp vanilla
zest of 1 small orange
¼ cup milk at room temperature

Happy baking!