A delicious Eggless Apple Cake recipe that everyone will enjoy.
There's pretty much every form of apple in this cake recipe.
There are two cups of chopped apple, apple sauce, apple cider vinegar and another apple sliced for the decoration on top.
That's a whole lot of apple. And what better complement to all of this apple-y goodness than a generous amount of cinnamon – a match made in heaven.
This is not only an eggless cake, but it's also dairy free, making it suitable for vegans as well.
This Eggless Apple Cake is shared by the wonderful Jean at My Recession Kitchen.
If you're looking for more fabulous fruity eggless cakes like this one, this Eggless Banana Cake is always a hit.

Eggless Apple Cake Recipe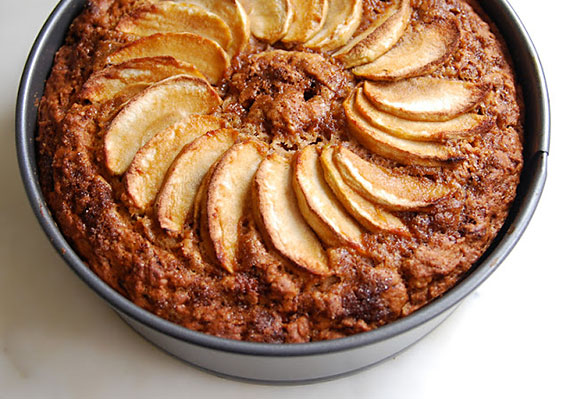 Ingredients
1 cup white whole wheat flour
2 cups unbleached white flour
¾ cups unbleached sugar
2 teaspoons cinnamon
2 teaspoons baking powder
1 teaspoon baking soda
1 teaspoons salt
1 cup rice milk (or other non dairy milk)
½ cup unsweetened apple sauce
¼ cup olive oil
¼ cup sunflower oil (or safflower)
2 teaspoons apple cider vinegar
1 teaspoon vanilla extract
2 cups peeled and cored apple chunks
1 whole apple
4 tablespoons dark brown sugar, divided