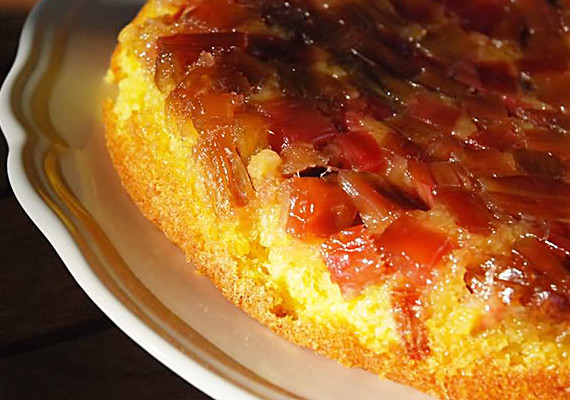 An Upside-Down Rhubarb Cake recipe for fans of rhubarb cakes, and upside-down cakes, everywhere.
In this great recipe moist vanilla cake provides the perfect base for the rhubarb to shine. The rhubarb forms a gorgeous tangy yet sweet topping for the cake.
And just look at that color. This recipe is great as you can use fresh or frozen rhubarb for the same great results. If you're using fresh rhubarb, choose the brightest ruby red stalks as you can as they do lose some color intensity during baking.
Rhubarb seems to polarize people into either the love it or hate it camps. I'm firmly in the former camp and am proud to say I have turned many into rhubarb lovers through the power of cake.
And I probably don't have to mention yet again how much I love, love, love upside-down cakes – just take a look here. What I will say though, is how important it is to remove your upside-down cake from the tin while it's still warm. Otherwise it will stick. Most of the complaints I hear about upside-down cakes relate to how difficult they are to de-pan. Follow this tip and you should be fine.
This great Upside-down Rhubarb Cake is shared by the talented Crossing the Prairie.
Upside-down Rhubarb Cake Recipe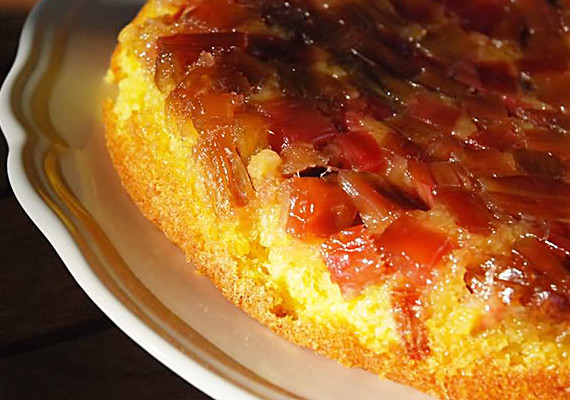 Ingredients
⅔ cup sugar
3 tablespoons butter, melted
2-1/4 cups diced fresh or frozen rhubarb
4-1/2 teaspoons sugar
6 tablespoons butter, softened
¾ cup sugar
2 large eggs, separated
2 teaspoons pure vanilla extract
1 cup plus 2 tablespoons (4½ ounces) flour
1-1/2 teaspoons baking powder
½ teaspoon salt
¼ cup whole milk
¼ teaspoon cream of tartar