A truly delicious Apple Walnut Cake recipe that's healthy to boot. There is no extra sugar added to this cake (the icing sugar on top is optional).
The sweetness comes from the natural goodness of apples and the generous quantities of dried fruits.
And olive oil replaces butter. So that's covered too.
This is a flexible cake recipe that you can tailor to your own tastes by including the fruits you like most (or have in the pantry). When you select what fruits to use, try and always keep in mind the colours. Apricots, cherries and cranberries always add a lovely brightness to a cake like this. You could also add some pistachio nuts for their lovely green hue.
With all those fruits and the nuts, this cake is a nutritious and delicious treat.
This Apple Walnut Cake is baked with love by Anja's Food for Thought.

Apple Walnut Cake Recipe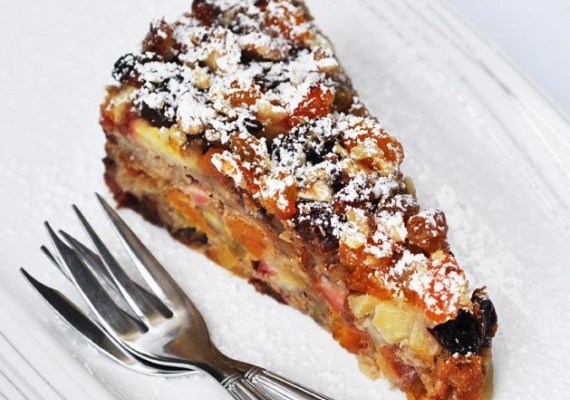 Ingredients
1 1/2 cup dried fruit (such as golden raisins, cherries, apricots, cranberries, pears, plums)
1 cup whole wheat flour
1/2 teaspoon baking powder
1/4 teaspoon of salt
1/2 teaspoon cinnamon
3 eggs
6 tablespoons olive oil
3 medium apples
1/2 cup chopped walnuts
icing sugar (optional)
Instructions
For the full recipe go here: <a title="Apple Walnut Cake With Dried Fruit" href="http://www.anjasfood4thought.com/2010/03/apple-walnut-cake-with-dried-fruit.html" target="_blank">Apple Walnut Cake With Dried Fruit</a>.
Happy baking!