This Chocolate Chip Cake recipe is great for those days when a cookie just won't cut it. Or when you'd like a little chocolate with your cake, but not a full-on chocolate cake.
A giant chocolate chip cookie – in cake form. Sounds pretty wonderful to me.
Easy to make, the vanilla butter cake is moist and fluffy. Add in chocolate chips – lots of chocolate chips, and what could be better?
Eat this cake while it's still warm for delicious little pockets of melted chocolate love. With ice-cream or cream it gets even better.
The very talented Chicho's Kitchen brings you this great Chocolate Chip Cake.

Chocolate Chip Cake Recipe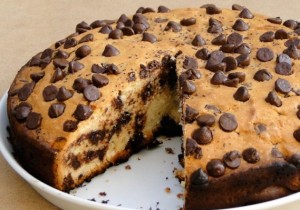 Ingredients
225 g (2 sticks) butter, at room temperature
200 g (1 cup) sugar
1 tsp vanilla extract
4 eggs, at room temperature
240 g (2 cups) all purpose flour
1 tsp baking powder
a pinch of salt
200 g (7 0z) chocolate chips