Take my word for it, this Chocolate Chip Cheesecake recipe will help you make friends and influence people.

A biscuit base topped by a rich cream cheese and sour cream baked cheesecake filling with lots and lots of mini chocolate chips.
But if you thought this cheesecake couldn't get any better, add a thick layer of spoon-licking-good chocolate ganache on top. Convinced yet?
Be warned, once you make a cheesecake like this with a thick chocolate ganache topping, it's hard to go back. Cheesecakes just won't seem complete without a chocolatey topping like this one. You'll be spoiled forever  – don't say I didn't warn you.
Be still my beating heart (and no, that's not a high cholesterol reference).
I first discovered this recipe at Serendipity Mommy but it seems to have disappeared into cyberspace. I've reproduced it below so we don't lose it forever.

Chocolate Chip Cheesecake Recipe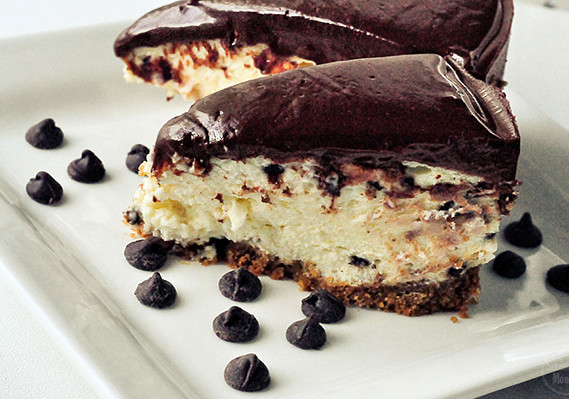 Ingredients
1½ cups graham cracker crumbs
Stick of butter, melted
4 pkg cream cheese, room temp
½ c. sour cream
¾ cup white sugar
¼ c. flour
3 eggs, room temp
1 Tsp Vanilla extract
1½ C. mini chocolate chips, divided
¼ C. heavy whipping cream
Instructions
Preheat oven to 350°. Combine crumbs and butter and press into bottom of spring form pan. Bake for 10 minutes.
In your stand mixer, beat the cream cheese with the paddle to soften it. Add the flour, sugar, sour cream and then eggs one at a time. Add the vanilla.
Switch your mixer to low and add ½ C. of the chocolate chips and mix until just folded. Pour batter into cooked crust.
Wrap your spring form pan with foil tightly so the bottom is protected and put the pan in a larger pan and fill it halfway with water to make your water bath. (this is to help even cooking). Bake for 55 minutes. Your oven may need less time, if you get a giant crack it means you overcooked. Leave in the oven with the door cracked for 1 hour. After adding the ganache, chill for at least 4 hours.
Ganache:In a double boiler or microwave, mix the rest of the chocolate chips and cream to form a ganache, melt until shiny and smooth. Pour the ganache over the cheesecake while its still in the pan cooling. You can do this about 45 minutes after the cheesecake is done.If your ganache starts to crack and loses its smoothness just heat it up and maybe add a tsp of cream to get it pretty again.