An Almond Meal Cake with a difference.

When a baking super star like Shauna Server gets really excited about a cake recipe and actually implores her readers to make it, we should pay attention.
Why is this particular almond cake so special? I hear you ask.
Well, a couple of reasons that come down to the fact that it tastes utterly divine and it's ridiculously easy to make.
We've all seen almond meal cake recipes before, but have you ever seen an almond cake recipe where you simply blitz whole almonds, along with everything else, in a blender or food processor?
Well that's what happens here.
With this inspired cake, you essentially make your own almond meal, while you're blending all of the ingredients together. It really doesn't get any easier than this.
With a crust of crunchy sliced almonds, and almond meal plus almond extract, this buttery cake sings with almond flavor. And then there's the texture contrast from the almond crust and the whole almonds which are turned into almond meal in the blender or food processor.
The always incredible Shauna Server, The Next Door Baker shares this fabulous Almond Meal Cake recipe.

Almond Meal Cake Recipe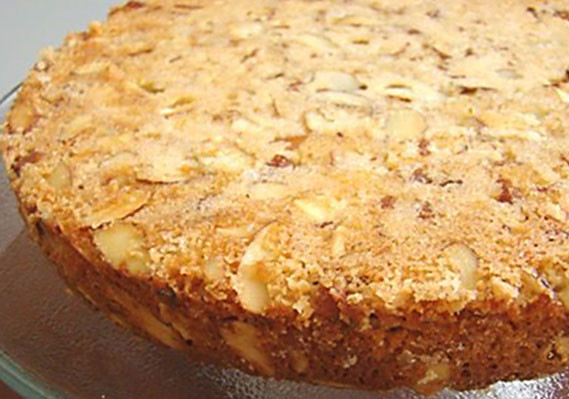 Ingredients
For the crust:
1 tablespoon unsalted butter, very soft
Generous ⅓ cup sliced almonds
2 tablespoons granulated sugar
For the Almond Meal Cake:
4 ounces whole almonds
1 cup plus 2 tablespoons granulated sugar
¼ teaspoon salt
½ teaspoon pure almond extract
3 large eggs
8 tablespoons unsalted butter, cut into pieces, slightly softened
⅓ cup all-purpose flour
¼ teaspoon baking powder