An absolutely outstanding Chocolate Cake with Oil. Just look at all that rich chocolate lushness!

I wasn't particularly looking for a chocolate cake recipe with oil but as soon as I saw this, I had an almost uncontrollable desire for this chocolate cake.
This is one chocolate cake recipe to hang onto.
The cake has cocoa powder and semi-sweet chocolate for a big chocolate hit. There's also a little coffee in the cake which adds to the rich chocolatey flavor without leaving any coffee taste whatsoever.
The cake's ultra moist thanks to both the buttermilk and the canola oil. Baking at a lower temperature for longer also preserves the cake's super moist texture.
But the joys of this chocolate cake with oil recipe don't end there.
The gorgeous chocolate glaze uses a dash of corn syrup which gives that smooth, shining, reflective (almost mirror-like) quality. I think it's the perfect glaze for this cake and wouldn't skip it for the world.
The extraordinarily talented Pastry Studio shares this divine Chocolate Cake with Oil recipe.
Looking for more swoon worthy chocolate cake recipes? Have a look at this decadent Ultimate Chocolate Cake or this Ultra Rich Chocolate Orange Cake. Try not to faint with chocolate cake desire…

Chocolate Cake Recipe with Oil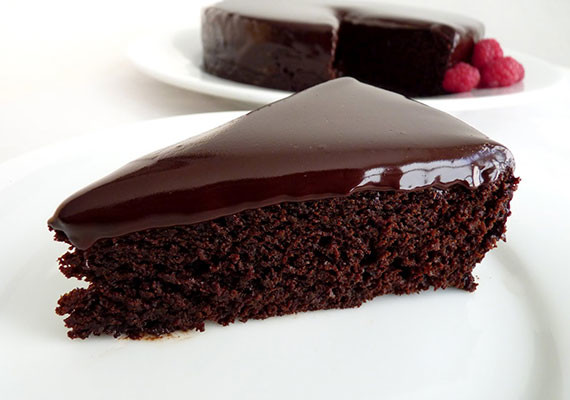 Ingredients
For the Chocolate Cake:
1 oz semisweet chocolate, finely chopped
½ C hot brewed coffee
¾ C + 2 T all purpose flour
½ C cocoa powder
generous ½ t baking soda
¼ t baking powder
generous ¼ t salt
1 C sugar
1 large egg
¼ C canola oil
½ C buttermilk
¼ t vanilla extract [I used 1 t]
For the Chocolate Glaze:
5 oz bittersweet chocolate (or 2½ oz each of bittersweet and semisweet)
¾ C heavy cream
1 T corn syrup