This ultimate chocolate cake recipe is truly great. Truly, seriously, incredibly, and all other superlatives ever invented, great.
Moist, lush, fudgey, rich and decadent. This cake takes chocolate cake recipes to a whole new level.
While it's all about the chocolate (as you would expect of an ultimate chocolate cake recipe), a touch of coffee is added to enhance the intensity of the chocolate flavor – but you could never tell it has coffee in it.
Using coffee in chocolate cake recipes is a great trick that deepens the chocolate flavor of cakes, while the coffee itself leaves no trace of its own flavor. Whenever I see water used in a chocolate cake recipe, I substitute coffee. Works every time.
Finished off with a dark chocolate ganache and chocolate curls, this cake is sure to satisfy all the chocoholics in your life.
Worried about making chocolate curls? Don't be. This recipe includes step-by-step instructions and great photos to help you out. It's actually really easy and looks mighty impressive. You'll be putting chocolate curls on everything very soon.
This decadent Ultimate Chocolate Cake recipe is baked with love by Citrus and Candy.
Want another great chocolate cake recipe? How about this wonderful chocolate orange cake.

Ultimate Chocolate Cake Recipe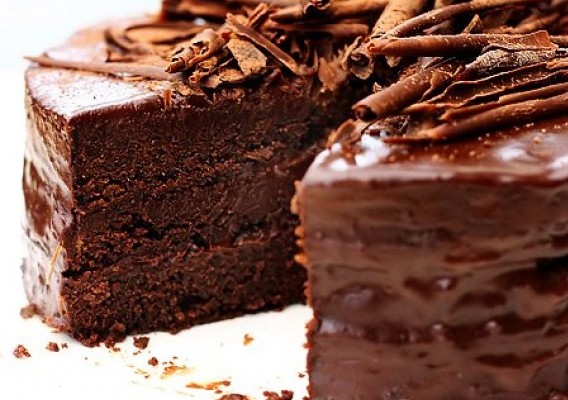 Ingredients
For the Cake:
200g good quality dark chocolate, broken into pieces
200g unsalted butter, roughly chopped
1 Tbl instant coffee granules
125ml water
85g plain flour
85g self raising flour
¼ tsp bicarbonate soda
200g light brown/muscovado sugar
200g caster sugar
25g cocoa powder
3 eggs
75ml buttermilk (or soured milk – method provided in full recipe).
For the Ganache:
200g good quality dark chocolate
285ml pouring cream
2 Tbl caster sugar