Made with wholemeal flour and homemade raspberry filling, this Raspberry Shortcake recipe is an utter delight.
It's always a daunting task to reinvent a much-loved classic, but this Raspberry Shortcake recipe is a complete triumph.
If you're a fan of traditional strawberry shortcakes, this recipe offers a couple of very nice variations worth trying.
One is that it uses a combination of wholemeal and white flour for the shortcakes. You also make your own jammy raspberry filling, from raspberries and sugar instead of the usual strawberry filling. And finally, the recipe suggests using mascarpone instead of cream.
Fresh or frozen berries work equally well, and you can adjust the sweetness of the raspberry jam by controlling the sugar quantities.
I'm already plotting a blackberry version of this recipe!
This wonderful Raspberry Shortcake recipe is baked with love by Foody Two Shoes.
If it's the traditional version you're after, here's a super-easy Strawberry Shortcake recipe. Or how about this fancier Strawberry Shortcake Cake?

Raspberry Shortcake Recipe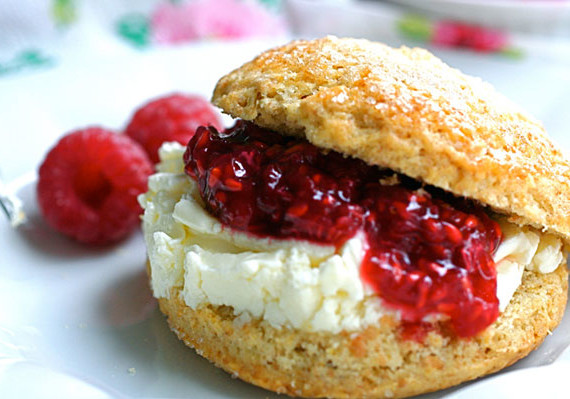 Ingredients
For the Quick Raspberry Jam:
250g raspberries
250g sugar
For the Wholemeal Shortcakes:
200g plain flour
125g wholemeal flour
1 tablespoon baking powder
5 tablespoons sugar
125g unsalted butter, frozen
1 large egg
125 ml cream
1 egg white, lightly beaten
Mascarpone to serve