A chocolate and orange cake doesn't come more decadent than this.

This amazing creation is utter indulgence – arguably my favorite rich chocolate cake recipe. And I have a lot of those to call on.

Not surprisingly, the cake is extremely popular with friends and family who request it over and over again. A fantastic dinner party dessert stand-by.

They all devour the cake with their eyes well before I even start slicing. Can you blame them? That Chocolate Ganache Frosting is lust inducingly sinful.
It's as close to the perfect chocolate cake as you'll get.
The only thing I would say is that you need to mention to your guests before they take that first bite that it's chocolate AND orange. People are a little thrown when the flavor is not quite what they expect.
Don't get me wrong, everyone always loves it. I actually think it's the orange flavor that makes the cake a little different, and even more memorable than most other chocolate cakes.
But you don't want the sheer delight of that first glorious bite to be taken away.
I cannot recommend this delicious chocolate cake enough.
This Ultra Rich Chocolate and Orange Cake recipe is from the super-amazingly talented Hunger and Sauce.
Want another amazing rich chocolate cake? Try this spectacular chocolate cherry cake recipe.
And you'll find more like these at our extensive Chocolate Cake Recipe Collection. Take a look and prepare to be inspired.

Ultra Rich Chocolate Orange Cake Recipe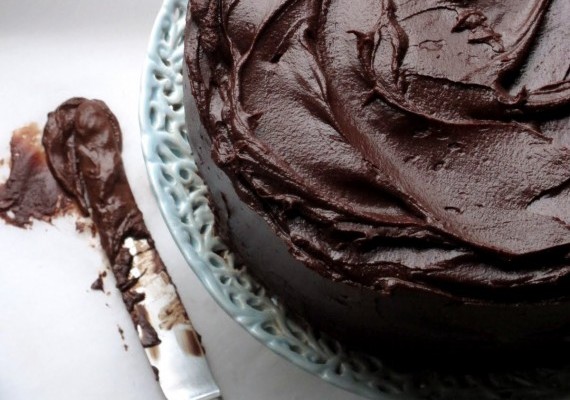 Ingredients
For the Chocolate Cake:
100g soft butter
220g caster sugar
2 large eggs
the juice of an orange, made up to 250ml with whole milk
1 tbsp cider vinegar
the grated rind of an orange
100g melted dark chocolate
15g cocoa powder
300g self-raising flour
½ tsp bicarbonate of soda
For the Chocolate Ganache Frosting:
350g dark chocolate
100g butter
200ml sour cream
2 tbsp Grand Marnier or other orange liqueur
the rind of an orange

Happy baking!