This is not just any old chocolate and orange cake recipe but something far more indulgent and decadent, a Dark Chocolate and Blood Orange Cake.
I always love reading about what dedicated foodies choose for their own birthday celebrations.
This was what Susan at Susan Eats London decided upon for her birthday cake. Susan describes it as "seductive" – and I think that's the perfect word.
Orange and chocolate is such a great flavor combination (and my favorite Lindt chocolate flavor by the way). But it's the extra attention to detail in this recipe that makes it really shine such as using unsweetened dark cocoa powder, and blood oranges instead of regular (although the latter would do fine if you can't get your hands on blood oranges).
The cake has the flesh of five blood oranges baked into it so it has an intense orange taste. Add in a generous splash of cointreau and the cake is deep, dark and luscious. The Italian meringue buttercream frosting with blood orange syrup lightens things up a little and adds a fresh flavor and texture contrast.
A cake for a birthday celebration if ever I saw one.
This wonderfully indulgent Dark Chocolate and Blood Orange Cake is shared by the fabulous Susan Eats London.
If you enjoy chocolate and orange cakes you also might like this Ultra Rich Chocolate Orange Cake.

Chocolate and Orange Cake Recipe: Dark Chocolate and Blood Orange Cake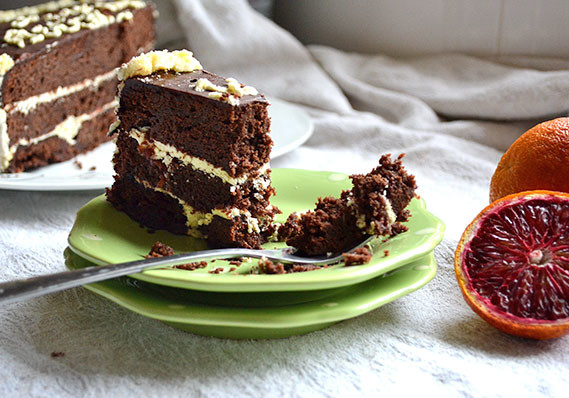 Ingredients
For the Chocolate Orange Cake:
375 grams soft unsalted butter, plus additional butter for the cake pan
450 grams sugar
1 teaspoon vanilla extract
5 large eggs or 6 medium eggs
300 grams sifted self-raising flour
140 grams sifted unsweetened cocoa powder (54% dark or higher)
½ teaspoon salt
Zest of two blood oranges
Flesh of five blood oranges, supremed, and any juice reserved
3-5 tablespoons Cointreau (optional)
For the Italian meringue buttercream frosting:
5 egg whites, at room temperature
250 grams sugar, divided
½ cup water
226 grams soft unsalted butter, cut into small chunks
Juice of one blood orange + one tablespoon sugar for syrup