This Intense Chocolate Cherry Cake is a serious, serious, cake recipe that will satisfy any chocolate addiction.

This is an intense and indulgent dark chocolate cake spiked with the luscious sweetness of cherries.
Just look at that amazing fudgey texture and those luscious cherries.
Happily, for such an impressive and decadent looking cake, there's nothing complicated about the recipe either.
This is an awesome chocolate cherry cake. There's not much more to say really.
This Intense Chocolate Cherry Cake recipe for all you chocoholics out there comes from Swirl and Scramble.
If it's the cherries in this cake that have caught your attention, have a look at our collection of cherry cake recipes. Ten of the best cherry cakes around – and of course this Intense Chocolate Cherry Cake recipe is one of the stars.

Chocolate Cherry Cake Recipe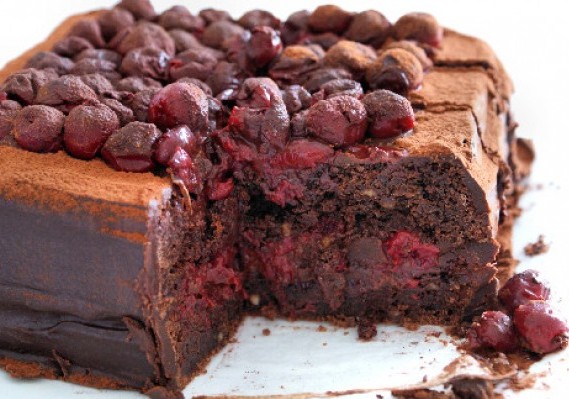 Ingredients
For the Cake:
200gr dark chocolate
200gr sugar
4 eggs
150gr flour
1 teaspoon baking powder
Pinch of salt
2 tablespoons cherry jam
For the Chocolate Ganache:
Chocolate and heavy cream for the ganache (equal parts of each).
To Decorate:


Happy baking!